Public schools — un-educating Americans, one student at a time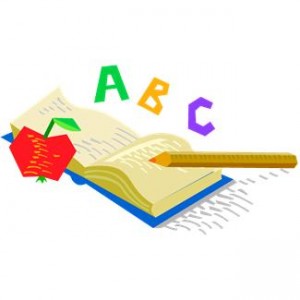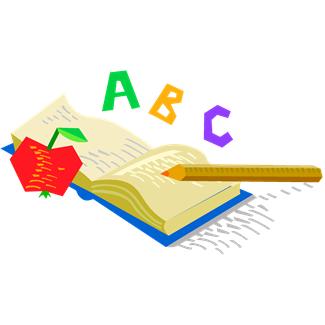 I was livid this morning. One of my children asked me to quiz her about rhetorical fallacies, which she was studying for a test. The teacher had put the examples together himself and they included such gems as saying it's a logical fallacy to argue that guns are tools in the same way hammers are tools. Another example was that it's a logical fallacy to argue against gay marriage. To give students an insight into good arguments against logical fallacies, he directed the students to Jon Stewart's hyper-partisan The Daily Show. Indoctrination much?
When I complained to my resident Leftist, all I got was bewilderment. Guns are evil, gay marriage should be accepted by all, and Jon Stewart was the smartest, most informative man in television — so why am I fussing? The fact that all of those represent partisan views and the principle that they therefore should not be introduced on the taxpayers' dime completely eluded him. School, after all, is there to teach students how to "think."
School indoctrination is a sore subject with me, since it's endemic in Marin, as it is in any school district that has a teacher's union. Math is tainted both by Common Core and the fuzzy math approach that's meant to give a pass to women and minorities who apparently struggle with actual math (you know, the kind where the results are correct).
As someone who's bad at math (Common Core's crazy complications are familiar to me because that's the way they were teaching back in the San Francisco public schools' 1960s/1970s experimental phase), I recognize the advantage of being able to reach roughly correct answers for such inconsequential things as calculating tips, measuring something that doesn't need precise dimensions, or keeping vague track of a family budget. I also recognize what a weak reed this fuzzy math is. When the situation demands precision, I struggle.
English as taught in America's public schools is a joke. I've already shared here my fury at the way an English teacher in Sandy Hook's wake, handed out to the students strong gun-control articles. I politely protested (because my child, after all, was a hostage to grades in his class, but got nowhere). While the students get Leftist politics and lots of sex in their English classrooms, the students emerge without fundamentals such as grammar, spelling, structure, and narrative. Eileen Toplansky describes in heartbreaking detail trying to teach under-educated American youngsters  when they reach college.
As the recently AP U.S. History fight showed, history is taught through a purely Marxist, anti-American lens. The books subtly and not-so-subtly tell those pliant young minds that America is the root of all evil and that the purifying answer to our nation's wrongs is top down collectivism.
It doesn't seem to occur to these geniuses that the things about which they complain — whether slavery, Indian relocations, Jim Crow laws, etc. — were only able to happen because of government power. The corollary is that diffusing government power dilutes a nation's ability to do things that bug Leftists.
Typically, each Leftist cadre assumes that, when it acquires unlimited power, it will get it right. That's why Bernie, who shrilly screams for a government that uses its guns to confiscate individual wealth, is looked upon as some type of savior, rather than the power-hungry, crazed madman he really is.
Lastly, there's the wreckage of science in America's public schools. The kids still get taught useful basic stuff, such as chemistry and biology, but the higher up they go, the more tainted it gets.
I have in front of me the textbook used in our local school's AP Environmental Science class. Published by Brooks/Cole Cengage Learning, G. Tyler Miller's and Scott E.Spoolman's 14th edition of Environmental Science purports to be a comprehensive textbook, teaching children everything they need to know about the natural world that surrounds us.
In the introduction to teachers (p. xiii), we learn that the book is all about "sustainability — the integrating theme of this book." This theme leads to the boast that, in the new edition,
Climate change is emphasized with new coverage on the warming of the world's lakes, climate change tipping points, and innovative [and, no doubt, prohibitively expensive] efforts to reduce methane and soot emissions.
I'm all for sustainability. Speculations about Mars' potential habitability notwithstanding, we only have one planet that's a sure thing for human survival, and it behooves us to treat it well. Treating it well, however, does not mean either falsifying science or destroying human kind. The environmentalists' shtick to the contrary, we are a part of the planet's diverse life forms, rather than an alien being that must be destroyed.
What got my knickers in a twist about the book was the random happenstance that, as I was moving it off the kitchen table, I dropped it and it opened to this page, which introduces the chapter on "Sustaining Biodiversity : The Species Approach":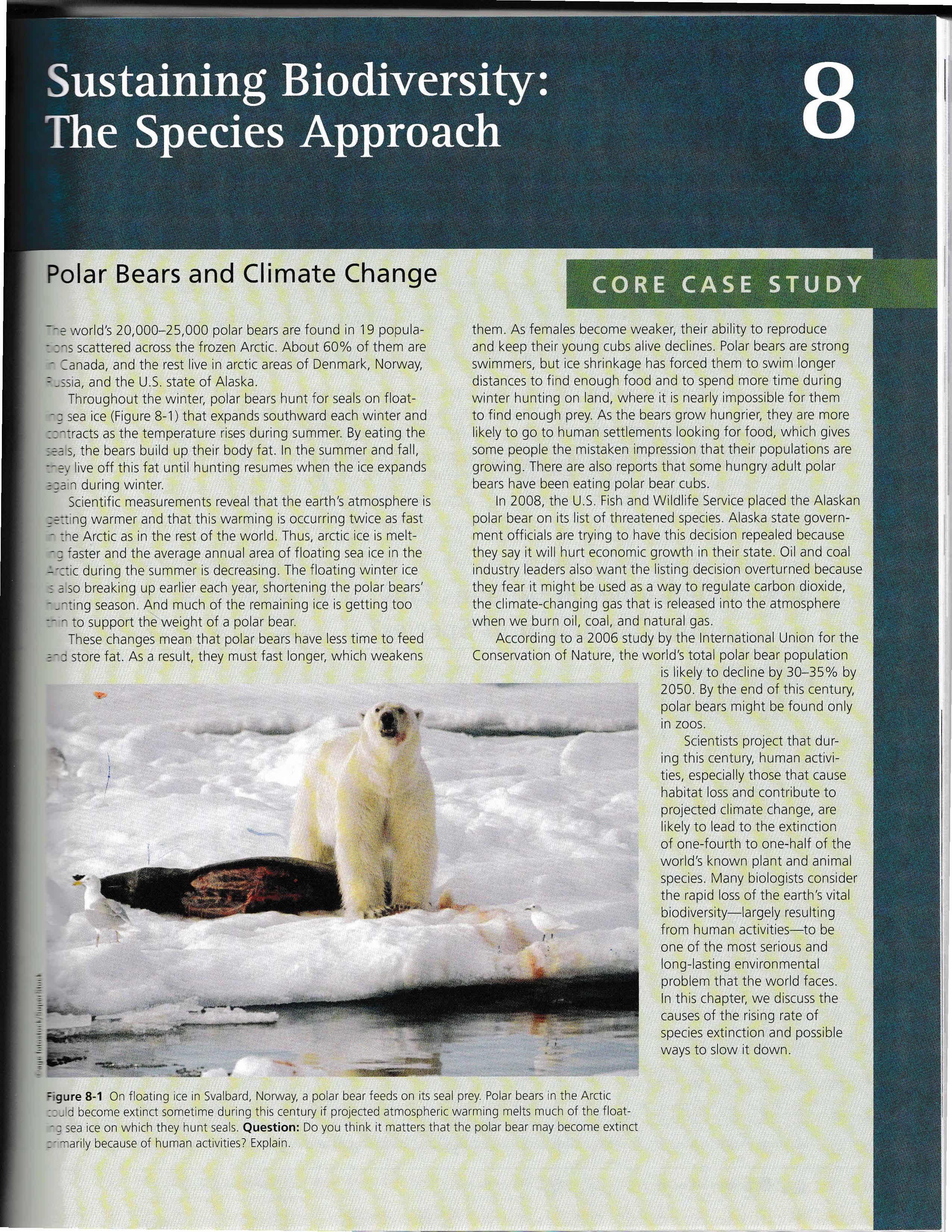 [Click on image for full size page.]
You know you're in for it whenever you see anything about polar bears and climate change.  The entire page is a sustained sob about the poor declining Arctic polar bears.
Those pathetic bears, trapped forever on teeny little ice floes that carry them out to sea, where they die a bitter, lonely death.  Indeed, according to the book:
Scientific measurements reveal that the earth's atmosphere is getting warmer and that this warming is occurring twice as fast in the Arctic as in the rest of the world.  Thus, the arctic ice is melting faster and the average annual area of floating sea ice in the Arctic during the summer is decreasing.  The floating winter ice is also breaking up earlier each year, shortening the polar bears' hunting season.  And much of the remaining ice is getting too thin to support the weight of a polar bear.
That's so affecting.  The only problem is that, unsurprisingly given the continuously dynamic nature of planet earth, none of that is true:
After the shortest melt season on record, and the most rapid growth on record, Arctic sea ice extent is the largest in a decade.

Ocean and Ice Services | Danmarks Meteorologiske Institut

Not only is extent increasing, but Arctic sea ice thickness has also increased by 40% over the last five years.
Steve Goddard, who wrote the above post and generally provides invaluable actual climate facts at Real Science, concluded by saying "None of this will be reported by the criminals at US government agencies or in the press."  I'll add that none of this will appear in school books either, which are completely invested in the pathetic polar bear scenario.
Goddard also caught the fact that the climate changistas have had to scale down their dire predictions about the declining polar bear population.  The textbook indoctrinating. . . . er, "teaching" our children insists that
According to a 2006 study by the International Union for the Conservation of Nature, the world's total polar bear population is likely to decline by 30-35% by 2050.  By the end of this century, polar bears might be found only in zoos.
I'm dubious about anything the purports to predict with exactitude what will be going on in the natural world in 35 years, let alone 85 years.  Right off the bat, that confidence about a future that will be affected by data we can't even begin to imagine suggests a con.  And indeed, with the con collapsing, these vague "scientist" collectives have abandoned the line that those polar bears on itty-bitty icebergs are dying now and, instead, are saying, "It's still going to happen, we promise, but not for another ten years."
Polar Bear Science is a useful site that looks at actual, you know, facts and data, rather than loosey-goosey futurist predictions. For example, the Western Hudson bears, one of the more studied bears, have shown population stability for eleven years now, no doubt explaining the new claim "scientific" announcement, above, that climate change won't affect them for another decade. Indeed, if you scroll through the Polar Bear Science site, which relies solely on field study data, you come away comforted to know that the polar bears are doing fine, thank you very much.
The International Union for the Conservation of Nature ("IUCN"), which authored the 2006 study that the book cites with such elan, probably isn't the best source for information in any event.  You see, it's guessing:
The IUCN Polar Bear Specialist Group admits its global population estimate is simply a qualified guess with a large potential error.  So perhaps it's time to acknowledge that for the purpose of comparing polar bears to other species of concern, the upper limit for polar bear numbers worldwide could be more than 30,000?
In subsequent updates to the above post, it appears that the polar bear population is a stable 26,000 or more and holding steady.  (For more facts, not guesses, about polar bear population trends, check out these links.)
And here's one other interesting thing about the IUCN: It's an old organization, formed shortly after the UN, and seems to have the UN's same impulse toward's tyrannical insanity.  Wikipedia isn't always the best source for this information, but it offers an interesting criticism about the IUCN:
It has been claimed that IUCN put the needs of nature above those of humans, disregarding economic considerations and the interests of indigenous peoples and other traditional users of the land. Until the 1980s IUCN favored the "Yellowstone Model' of conservation which called for the removal of humans from protected areas. The expulsion of the Maasai people from Serengeti National Park and the Ngorongoro Conservation Area is perhaps the best known example of this approach.
But back to that textbook, which is preaching to the best and brightest kids throughout America's high schools.  It shares IUCN's anti-human slant:
Many biologists consider the rapid loss of the earth's vital biodiversity — largely resulting from human activities — to be one of the most serious and long-lasting environmental problem [sic] that the world faces.
Children!  You're murderers!  Every last one of you.  And just ignore the fact that this publishing company is responsible for printing up gazillions of copies of this 500-or-so page book, with its nice laminated covers, and shiny ink-coated pages.  The problems of the world are due to you, not to us.  We're just trying to profit off of the destruction you wreak.
When it comes to socialism, Lefties are just like little children.  You can tell them forever that freebies are never free, and can come with a dangerously high price (whether it's a child being kidnapped and killed by a predator offering "free" candy or puppies, or a nation having its economy and individual liberties by socialists offering "free" benefits). No matter the proof about freebies carrying risks, and no matter how often you dun that information into their heads, Lefties are no more capable of resisting temptation than is a five-year-old child.
If anything, Lefties regress even further mentally when it comes to climate science.  Have you ever played peek-a-boo with a baby.  It's so cute.  You cover your face, and the baby thinks you're gone.  And when the baby covers his own face, everything vanishes.  What a fun game.  Now you see it, now you don't.  And when you don't see, not only doesn't it exist, it never existed.  It's baby magic!!!
Scientists have been monitoring the environment somewhat closely for the past, say, 50 or 60 years.  Because of the Victorian passion for record keeping, we're able to access some data going back as far as 150 years.  Hard science, such as core samples or clues (fossils, bones, etc.) found in sediment, rounds out that data.  And that's what we've got.  But anthropocentric scientists are convinced that all the knowledge they've acquired now — and some of it's pretty darn patchy — constitutes the sum total of all human knowledge, from which everything can be extrapolated.  The fact is, species have been going extinct forever — since earth was first formed.
Examining earth trends starting with the dinosaurs, we can readily identify things that cause local or mass die-outs.  Sometimes the earth's climate changes.  Sometimes an earthquake, volcano, or catastrophic flood rejiggers the landscape in a certain region.  Sometimes a meteor wipes out life.  Sometimes the meeting between two species results in one getting destroyed.  Humans definitely did in the dodo and the mammoth.
As an aside, it's likely that the Lefties' beloved Native Americans, who are invariably presented to children as hippie types who would never dream of committing violence against the earth, had they populated North America in greater numbers probably would have destroyed the buffalo.  After all, one of the Comanches' hunting techniques was to drive a whole herd off a cliff.  The Comanches would then take what they could carry (not much), and leave the rest of the herd to die slowly and painfully, and then to rot in mangled heaps at the bottom of the cliff.  The Aztecs almost certainly turned to human sacrifice because they'd destroyed all animal food sources — i.e., protein and iron sources — in their region.
But here's the deal:  Because modern scientists, baby-like, uncovered their eyes to view Western interactions with nature only a few decades ago, they're pretty clear that none of the previous occurrences existed or mattered.  Like a baby revealing the world to itself, today's scientists consider only what they see before them when they see it.  Everything else is pushed aside and ignored.
I remember many years ago spending a vacation day in Cartagena, Columbia.  It was one of the most depressing places I've ever seen.  The encroaching jungle bore down hard on that city, and the city seemed inclined to give up the fight.  It was obvious that, if the city stopped for even a while to keep the jungle at bay, the city would vanish.  Nature is powerful.  Nature is merciless.  Nature is adaptable.  Nature, by its nature, is change.
Modern science's fear of change and rejection of Nature's powerful adaptability means that the scientists are driven to irrational, rather than rational, analysis.  Worse, once locked in the grip of this irrationality, our modern ideological science is driven to two dangerous paths:  ignoring the data and indoctrinating the young.
Medicine taught us that scientific rigidity is terribly dangerous.  Just look at germ theory, which scientists at first couldn't recognize, but then wouldn't recognize.  Even when knowledge was available, ideologically driven men of "science" continued to kill patients.  But maybe that's what the scientists want in the end:  a lot of children who have been trained to a suicidal mindset they're told is absolutely necessary to save a natural order that needs their stewardship, rather than their disappearance.