Macalester College boasts when it should be embarrassed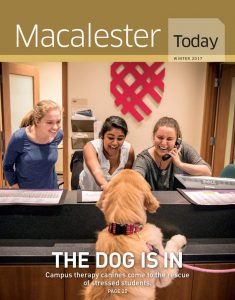 Since all my friends are college alums, and all their children are college attendees, their houses are littered with college promotional material. That's how I got my hands on a magazine called Macalester Today, in which Macalester College boasts about things that, in a normal world, would deeply embarrass it. Macalester, incidentally, charges over $60,000 per year for room and board. Here, in no particular order,  what I discovered leafing through my friend's magazine:
Macalester, a second- or third- tier liberal arts college, boasts that it has multiple therapy dogs to help students deal with homework stress. These kids have 12 hours or so of classes a week plus homework. Pardon me if I'm not weeping tears for the stresses they're under. In addition to a full class load at college, I spent 30 hours a week commuting and 20 hours a week working, while graduating Magna Cum Laud and Phi Beta Kappa. It's not that I'm that smart, so believe me when I say I'm not boasting; it's that, in the liberal arts, college isn't that hard.
The way Macalester Colleges defines down what constitutes "stress" is bad enough. I'm sure that, for some people, leaving home and being responsible for themselves for the first time is indeed stressful and they initially lack the skills to handle that stress. One of the things you're supposed to do in college is to learn the skills — not (to my way of thinking) to have the university essentially cheer you on for lacking them.
What's worse than this response to growing up (which can be hard) is the article's opening paragraph, which hones in on precisely why Macalester's students are really stressed and in need of therapy . . . er, in need of therapy dogs:
On the morning after a stunning presidential election night, when searches for "the five stages of grief" started trending on Google, the student team behind Macalester's therapy dog program knew just how to start the healing process.

"We posted an old puppy picture of Kevin on his Instagram account, just to let people know he'd be on campus if they needed to see him," says Emma Burt '17 (Shoreline, Wash.), who regularly attends to Kevin, the flaxen-bellied therapy dog who has become a celebrity on Mac Social since the Petting Away Worry and Stress program (PAWS) started on campus last fall. The family dog of medical director Dr. Steph Walters, and the self-confident alpha in a growing pack of comforting campus canines, "Kevin's got a way of making people feel better just by being here," says Emily Johnson '17 (Waimea, Hawaii), another of Kevin's four trained student handlers. "And we figured it could be a busy day for him."

When the 80-pound pedigreed golden retriever clocked in for his usual Thursday morning session at the library—the same day President-elect Donald Trump and his transition team were making their first visit to the White House—more than 50 Mac students stopped by in almost as many minutes to bask in his golden glow. Some smiled from afar and called out his name (inspired by the rainbow bird in the movie Up). Others scratched his ears, or invited him to lean his large head against their legs. Still others, like Ellie Hohulin '19 (Glen Ellyn, Ill.), dropped down on all fours to bury her hands in Kevin's well-groomed fur.
As best as I can tell, Macalester College mostly matriculates normal young people and then, over the process of four years, graduates dysfunctional basket cases. While few people love dogs more than I do, this infantilization of life's normal stresses is just so wrong.
There were other things beyond the cover story that got me hooked on the sheer awfulness of Macalester Today. For example, there's the blurb on what Macalester calls "capstones." As best as I can tell, they are what we used to call "senior theses." The magazine lists seven of the most "intriguing" examples. I've highlighted the ones in that list of seven that really intrigued me:
"Beyond Betty Crocker: Cookbooks as a Means for Spreading a Radical Message"

"You Won't Believe What's Happening to Journalism: Trust, Funding, and Tradition in the Era of Buzzfeed News"
"Marching Against the Madness: Macalester College and the Counterculture, 1966-1974"

"A Tale of Two Gay Villages: An Urban Political Ecology Approach to Globalization"

"Boys Club: Tackling Racism, Masculinity, Gender Violence, and Playing Basketball"

"Watching it Burn: Republican Environmental Decision-Making"

"To See the Face of God: Depictions of the Divine in Revelation"
Do I need to editorialize about those? No. I don't think I do. If you're a regular Bookworm Room reader, you already know what I'm thinking.
The magazine also boasts — twice — about Kofi Annan, who is apparently one of its favorite alumni: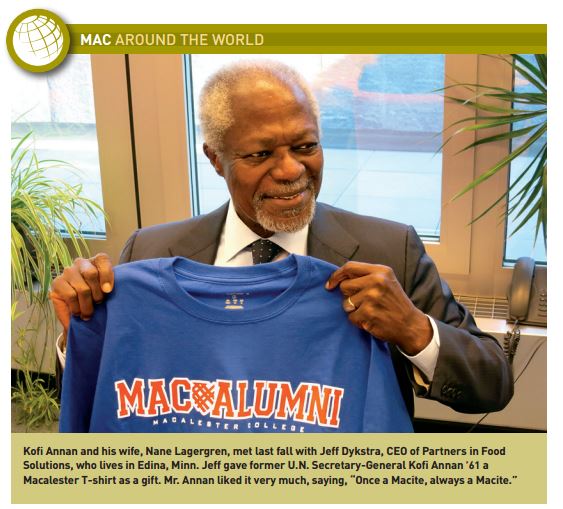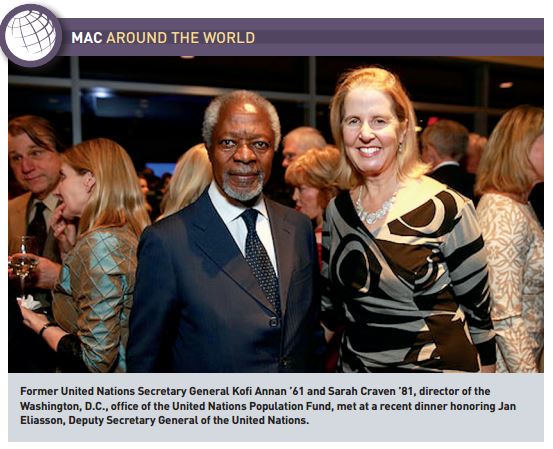 Unlike Macalester, I don't get the warm, proud fuzzies when I think of Kofi Annan. Rather, I get a chilly feeling of disgust when I think of this scrofulous, ineffectual, corrupt bureaucrat.
It was Annan who, while heading the UN's "Department of Peacekeeping Operations" blithely presided over the 1994 Rwandan Genocide (an estimated 800,000 slaughtered in cold blood, mostly with machetes, over a three month period). According to Wikipedia:
In 2003 Canadian ex-General Roméo Dallaire, who was force commander of the United Nations Assistance Mission for Rwanda, claimed that Annan was overly passive in his response to the imminent genocide. In his book Shake Hands with the Devil: The Failure of Humanity in Rwanda (2003), General Dallaire asserted that Annan held back UN troops from intervening to settle the conflict, and from providing more logistical and material support. Dallaire claimed that Annan failed to provide responses to his repeated faxes asking for access to a weapons depository; such weapons could have helped Dallaire defend the endangered Tutsis.
Annan was also entirely passive when Iraq started rearming and began to look towards nuclear, biological, and chemical armaments in the wake of the First Gulf War. It was Annan's son who made off like a bandit with the massive UN Oil-For-Food scandal, again involving Iraq. Annan also excused credible allegations that one of his minions was involved in grotesque sexual harassment. Probably, looking at the way that UN male operatives, both on the ground and in headquarters, have routinely sexually abused women dependent on them one way or another, Annan thought it was just business as usual.
There's also Annan's long-standing problem with Israel. Back in 2005, Daniel Pipes detailed Annan's passive-aggressive slow-walking Israel into oblivion:
There is a right way and a wrong way, strangely, to call for the elimination of Israel.

The secretary-general of the United Nations, Kofi Annan, provided an example of both ways in recent weeks. When the president of Iran, Mahmoud Ahmadinejad, stated on October 26 that "the regime occupying Jerusalem must be eliminated from the pages of history," Mr. Annan replied by expressing "dismay." Again on December 8, when Ahmadinejad called for Israel to be moved to Europe, Annan responded with "shock."

But dismay and shock at Ahmadinejad's statements did not prevent Annan from participating on November 29, just between the Iranian's outbursts, in a U.N.-sponsored "International Day of Solidarity with the Palestinian People." Anne Bayefsky of "Eye on the UN," reports that Annan sat on the dais with an Arabic-language "Map of Palestine" nearby that showed a Palestine replacing Israel. It cartographically achieved exactly what Ahmadinejad called for: the elimination of the Jewish state.
I also found dismaying the fact that Annan never held a real job in his life. He was a degree jockey, whether because he was actually intelligent or because America's increasingly Leftist institutions, looking to burnish their diversity with Ghanian students, kept inviting him in. It won't surprise anyone to know that Annan, like Obama, is an Occidental alumnus.
Speaking of Occidental, the magazine also boasts that Macalester has a new dean for it's Institute of Global Citizenship, "a lynchpin of Mac's internationalism efforts." Donna K. Maeda's most recent job before coming to Macalester College was as chair of the Critical Theory and Social Justice Department at . . . Occidental. You don't need to have a good imagination to predict what the IGC department will be like under Maeda (although I assume it's already in sync with her values).
When Annan finally left the academic cocoon, he went straight into the UN Bureaucracy, rising high without ever accomplishing anything other than rising high. Certainly his "peacekeeping" performance in Rwanda left something to be desired.
Annan is not a person about whom decent people should boast. His titles shouldn't disguise the trail of blood and destruction in his wake. But that doesn't stop a magazine for an institution that manifestly believes that the UN is the ne plus ultra of cachet organizations.
Of course, the Macalester magazine isn't meant to appeal to people like me. It is, instead, its appeal is directed to an insane Social Justice Warrior demographic to whom every hammer is a nail. For example, look at just one letter to the editor that focuses on the picture below, which had illustrated the previous edition's alumna ruminations about movie-making: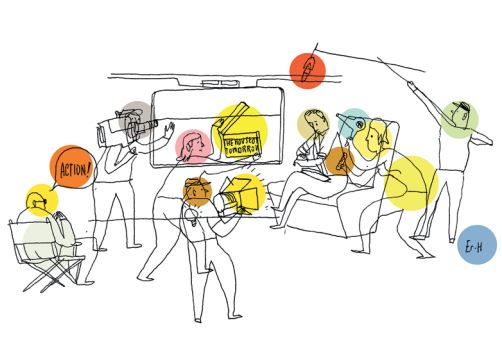 When I look at the picture, the first thing I notice is that it's pen-and-ink, with only outlines and no shading. The next thing I notice is that the people have multi-colored dots all over them, so that their faces are yellow, gray, pink, brown, and green. I don't know people who are jaundice yellow, corpse gray, boudoir pink, poop brown, or gangrene green. Do you?
After noting the decorative color spots, my eye locks in on the fact that, with the exception of the bald director, all the ink figures are engaged in hands-on tasks (that is, not strictly "white collar" jobs) ranging from the person holding the boom mic, to a cameraman, to a clapper board person, to someone shining lights on people.
The clapper board person has long hair and the stylist might have breasts. However, America's education establishments have drilled into me the fact that one should never assume a person's gender based upon external factors. This is especially true for such things as hair and breasts, all of which are cosmetically and surgically malleable. Remember: there is no such thing as absolute gender. It's all in the mind of the person whose body is at issue.
That's what I saw. But I'm not a social justice warrior. Melissa Ann Pinney, a parent, is a social justice warrior (although she's woefully behind on fluid gender theory):
I am a Macalester parent and a member of the Parents Council. I am writing because the illustration (shown above) in the most recent Grandstand column ("Movie Making," Fall 2016) perpetuates sexist stereotypes in the film industry—an industry well known for its discrimination against women and people of color. The recent press about Maria Schneider's experience of the set of Last Tango in Paris [Bookworm note: filmed in 1972] and subsequent trauma provides just one example. In the Grandstand illustration all seven figures appear to be white; the only women pictured are a hair stylist and clapper. I know these issues are important at Macalester and I hope you will address them not only in the text but in all your illustrations as well.

Melissa Ann Pinney P '17
Evanston, Ill.
Are you embarrassed for Melissa Ann "To a hammer everything is a nail" Pinney and for Macalester College? I am. I bet, though, that Mac types are not. I do appreciate, though, that Ms. Pinney was good enough to remind us again — as if we need reminder — that the Left is reduced to fighting decades' old battles because it has nothing new to offer. Given her pathetically out-of-date gender identity issues, I see her Second/Third wave feminism crashing headlong into her child's return home disclaiming any gender at all.
Macalester Today makes one nod to traditional values and it does so in a way that's most likely to make those values laughable. This appears in another letter to the editor:
I just read the article "Her Day in Court" (Fall 2016) and my question is this: Is Mac still a Christian college? The article was pro-abortion. The Fifth Commandment says, "Thou shall not kill." It couldn't be any clearer. So in my opinion, a Christian college should not promote killing helpless babies. I was so disappointed to see my Macalester so cheerfully promote something so against God.

Georgia Catton '57
San Diego, Calif.
With all due respect to Ms. Catton, I have to wonder where she's been for the last thirty years. Even Notre Dame promotes abortion. Still, I appreciate her point. The problem is that it's framed in a way that makes it impossible for parents, students, or alumni reading the magazine to have any deeper understanding of the scourge of abortion. The Ten Commandments are hopelessly passe and Bible-thumpers must always be disregarded (or, if they're in England, imprisoned).
Oh, and if you're wondering about the article that triggered Ms. Catton's letter concerns, here are some excerpts:
The lead plaintiff in the most critical abortion rights decision in a generation, Amy Hagstrom Miller '89 brought her case all the way to the Supreme Court—and won.

Few people have studied the optics of abortion as closely as Amy Hagstrom Miller '89, which is why she put on a bright purple suit the day her case went to the Supreme Court.

"When I've shown up to testify at the Texas legislature wearing pearls, people will do double-takes because I'm not what they're expecting," says Hagstrom Miller, the founder and CEO of Whole Woman's Health, a national network of independent clinics in Texas, Minnesota, and three other states. With her friendly laugh, fringed bob, and what Mother Jones recently described as her "energized Patricia Arquette" demeanor, she says, "I want to shift the image associated with being an abortion provider." [Bookworm here: She's a happy, cheerful person who commits infanticide, unlike that dour, creepy Kermit Gosnell.]

The lead plaintiff in Whole Woman's Health vs. Hellerstedt, Hagstrom Miller and the pro bono legal team from the D.C.–based Center for Reproductive Rights arrived at the nation's highest court on a Wednesday morning last March to challenge HB2, a 2013 Texas law mandating that physicians providing abortion services have admitting privileges at local hospitals, while requiring abortion clinics to meet the hospital-level standards of an ambulatory surgical center.

[snip]

Amy and Karl Hagstrom Miller met at Macalester, on a J-term trip to Nicaragua [Bookworm: that would have been during the Sandinista era], and married in 1992. Karl (whose parents, Barbara Lindquist Miller '60 and Kent Miller '61, also met at Macalester) came to Macalester as a mid-year transfer from Boston's Berklee College of Music to study history and music. Amy grew up in nearby Stillwater, the youngest of five siblings raised in "one of those Scandinavian peace-and-justice Christian families." A religious studies major, she widened her focus to include international studies and women's studies after a formative study abroad experience in India.

[snip]

At the time, abortion providers were embattled by a surge of clinic protests and escalating violence, a trend that Amy found deeply troubling. "The Jesus that I was taught about would be holding the hands of women inside the clinic," she says. "He wouldn't be screaming at them." So after graduating with the S.W. Hunter Prize for commitment to peace and justice, she walked into the Planned Parenthood in St. Paul's Highland Park and asked for a job.

She learned the work from the ground up, answering phones, counseling patients, and eventually following a physician provider into private practice, work she continued when the couple moved to New York, where Karl attended graduate school at New York University. "I found unplanned pregnancy as a way to engage around a huge number of issues that really center on the status of women and human rights in our culture," she says. "Women end up grappling with some really big issues that are sort of a barometer for our society— identity, stigma, self-esteem, sexuality, family, spirituality, religion."
In other words, the article that offended Ms. Catton did exactly what Ms. Catton said it did: it promotes abortion and, worse, it uses Christianity to do so.
Here's one other random bit of information I took away from the magazine: Rahm Emanuel's brother Ari, reputed to be one of the meanest agents in Hollywood (which is a high hill to climb) graduated from Macalester College in 1983. Again, I'm not sure he's someone about whom I'd want to boast. Having said that, one of the more interesting Macalester grads is Peter Berg (Class of 1984) who's been on conservative radars as a director and producer who makes TV shows (e.g., Friday Night Lights), movies, and even TV commercials that are almost not offensive to conservatives.
I have just one last point to make about this full-color, 50-page-long Macalester publication. It boasts that it's printed on recycled paper, but it's still printed, using ink (which affects the environment) and fossil fuel (for printing and mailing). In an internet world, it's an environmentally unsound way to convey information to people.
When I asked my friend why in the world she ordered the magazine she answered that she didn't; it just showed up in her mail on account of her kid. She doesn't know what to do with it. It's seems wasteful to throw it away, but she has neither birds nor hamsters to put the pages to good use. For now, it just sits in her living room, where she ignores it . . . but it sure managed to irritate me.