President Trump's great speech — by guest blogger John Novick
What's the sign that President Trump's great speech trolled the Progressives? The Left fell headlong into vulgarity and rudeness to show their disdain. (That vulgarity earns this post a NSFW warning.)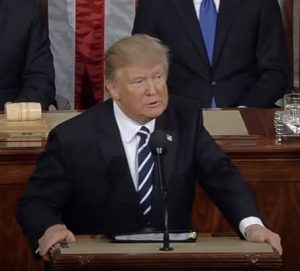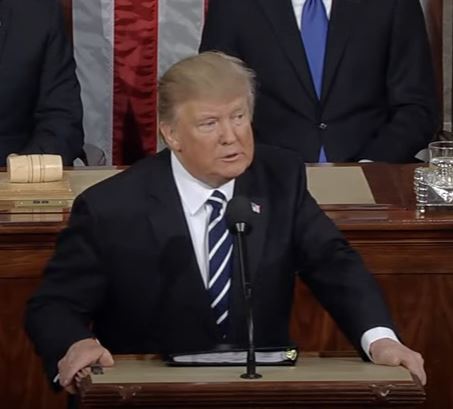 First of all, it was a GREAT speech. Don't believe me? This is from Trump-Haters CNN:
78% of those polled saw last night's speech as somewhat or very positive.
7 in 10 Speech-Watchers Say Trump Boosted Optimism.
CNN commentator Van Jones (who was forced to resign from The Obama Administration for calling Republicans "assholes") tweeted about the speech: "He became President of the United States in that moment, period."
Guess he won Hollywood back, huh? Not really…
The credible and measured Charlie Sheen tweeted: "suck a bag of soiled dicks, you FASCIST, legally retarded, DESPOTIC IMBECILE!"
The habitually unfunny comedian, Sarah Silverman was at least more succinct. She merely tweeted her classy "go-to" word: cunt.
Rosie O'Donnell, who was protesting out front, turns out to be way better at linguistics than legality. She told a reporter: "Te amo immigrants mucho. Yo estudia espanol en escuela. La personas esta aqui viva en la ustados unitos todas personas es Americanos." The English translation is, "I love you very much, immigrants. I studied Spanish in school. The people living here in the United States are all Americans." (No, Rosie. Only the ones who came here LEGALLY and were willing to abide by our laws to become citizens are AMERICANS).
Well, with that great presidential speech, Democrats will now give him a shot. Wrong again.
At least be original. A bunch of GPA-challenged, drunk, frat boys did this in ANIMAL HOUSE in 1978: Democrats were intent on showing as little approval of President Trump as possible during his address to Congress

Tuesday

, at one point even staging a round of fake coughs to protest his claims of making strides to "drain the swamp" in Washington, and hissing at his recognition of victims of illegal immigrant crimes.
And in another development that absolutely nobody cared about, Rep. Eliot Engel, New York Democrat, announced he would not shake Mr Trump's hand. It was not clear at press time if Mr. Trump even knows who Eliot Engel is.
And, during the second 2 minute ovation for Carryn Owens (Widow of Navy Seal William "Ryan" Owens), while the rest of America was in tears….the corrupt (and mentally challenged) Debbie Wasserman-Schultz and the perpetually anti-semitic Keith Ellison could not even be bothered to stand.
The best comment I read, and the one that describes the stinkhole the Dems are descending comes from Byron York:
[Trump said] 'My job is not to represent the world, my job is to represent the United States of America' — AND THE DEMOCRATS DID NOT APPLAUD. Just think about that for a moment. This simple sentence captures the heart of Trump's appeal. And it is also the Achilles heel of the Democrats.