As Obamacare battles its way through Congress, I have a few thoughts *UPDATE*
When it comes to Obamacare, I'm all for Occam's Razor, which argues that the simplest approach — repeal — is the best, subject to limited grandfathering.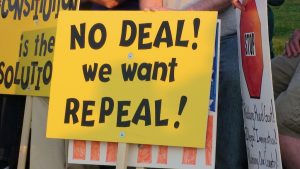 Before I introduce you to a few ideas I have about Obamacare, I have a true story for you. A pro-Obamacare friend of mine got a coupon in the mail for a new meal delivery service. As she is a working mom, the combination of a product that sounded good, along with a 50% discount on her first order, was enough to get her to try the service, which promised enough food to feed her family for three days.
One order was enough to convince my friend that the service was not for her. The food was not as well-prepared as the service promised and her family hated it. My friend did not place a second order. To her dismay, though, a second order appeared on her doorstep.
Being a humble sort, my friend assumed that the mistake was hers — that, rather than refraining from ordering, she needed to cancel affirmatively — so she cancelled affirmatively. Three days later, another order appeared, along with a bill for two rounds of food service at full price. My friend was livid. She didn't want to buy the food, but it was still showing up on her doorstep, and the company was still demanding payment.
I summed up the situation for her: "Yeah, I really hate it when I'm forced to buy a product I neither need nor want." She agreed vehemently, totally missing the perfect analogy to Obamacare. I, being a nice person, forbore to make the connection. Instead, I just had a good laugh at my own little joke.
Obamacare is profoundly anti-American. As a friend said, can you imagine if Britain, rather than merely taxing tea, forced Americans to buy it? The revolution would have come around a lot sooner. My friend has also painted a good "freedom" yard stick which is that, if it was a government action that would have offended the Founders, than we shouldn't be doing it.
As for me, I am somewhat confused about the House proposal to start doing away with Obamacare. I understand that the way in which the Democrats passed Obamacare — through reconciliation, instead of a normal vote — makes undoing it a less than straightforward process. Essentially, as best as I can tell, fully undoing it means reversing the process. That's a problem. But I have other problems too. . . .
I don't trust either Ryan or Trump on this. Ryan's role as House Speaker seems to have morphed him from a principled economic conservative into a garden-variety politician. I never trust a politician. I don't trust Donald either because, while he understands that Obamacare doesn't work, he gave every indication during the campaign that he still thinks government is the solution, only this time he, not Obama, will be the government.
I don't trust the Congressional Budget Office, which is supposed to be non-partisan but is not. I am certain that the numbers it just released are funny numbers.
Ultimately, I don't understand why we can't half a one or two page bill that has a few simple principles:
(1) the Affordable Care Act is repealed so that insurers can once again offer whatever the heck plans they want to offer and that people want to buy;
(2) if people like their Obamacare plans and the insurers want to keep offering them, fine;
(3) insurers can sell insurance across state lines;
(4) the government will assist with establishing a high risk fund for people with pre-existing conditions, with the money for this fund eventually coming as a small surcharge on other people's insurance, in much the same way that uninsured motorist funds get created; and
(5) much as I hate it, the government will have to have a grandfather plan that offers a declining number and amount of subsidies to those currently subsidized so that they can retain their insurance until marketplace dynamics kick in and prices drop.
Simplistic, yes, but I like Occam's Razor.
Paul Mirengoff has a good post about how stupid the current situation is, with its communist-style list of just a few offerings, none of which are tailored to meet anybody's actual needs.
I'd also like to bring three Charlie Martin insurance posts to your attention. He makes points I've been arguing for years, but Charlie makes the points better than I ever could.
First, having employers pay for insurance is ridiculous. The market functions optimally when the buyer is also the consumer. Having employers in the mix means that the buyer of the insurance (the employer) is not the one who consumes the insurance (that's the employee).
Second, using insurance for ordinary healthcare means that it's no longer insurance. It's some weird amalgam of welfare in which the consumer of healthcare (the insured) is not the one paying for the healthcare (the insurance). Meanwhile, of course, the healthcare providers have no economic relationship with their patients and, because the government basically sets prices through Medicare, they charge imaginary dollars in the hopes that private insurance will offset their losses due to Medicare's price controls.
Third, keeping in mind that we should be talking about insurance here, not cost shifting, if the insurer believes that it can decrease its risk of being forced to pay out big payments for serious illnesses by encouraging the insured's to get basic maintenance, that's fine. Thus, an insurer may conclude that having people get a check-up every year decreases the risk of catastrophic and costly illnesses. In that case, the insurer can mandate that, if the insured is to get coverage for catastrophic illness, the insured must regularly go in for check-ups and tests. That's not passing the cost of ordinary care to the insurer; that's an example of the insurer's own risk control. Likewise, the insurer might conclude that, when a pregnant woman gets monthly checks to make sure things are going well, those checks substantially decrease the likelihood that the insurer will have to pay for a bad delivery or a sick baby. Again, this is something an insurance company can do voluntarily for its own financial benefit.
And yes, I understand that the insurance company still has to deal with lifestyle and genetic issues: skinny people with heart disease and those with avoirdupois without heart disease; exercisers and couch potatoes; people who do all the right things and still have health problems and people who do nothing good and chug along like indestructible machines. These are issues that I would think the marketplace can and will address.
I'm just tossing out thoughts here. Please feel free to toss thoughts right back at me. I only ask that you do so politely.
UPDATE: Tom Cotton's approach makes sense to me: Do it once; do it right.