If you're feeling flush, I'm fundraising here at the Bookworm Room
Despite blogging for my own pleasure and being delighted that you come to visit, should you feel like making a purely voluntary donation, I'm fundraising.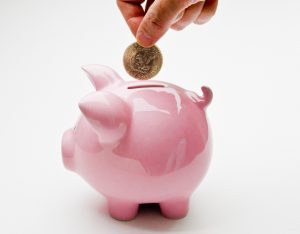 It's been quite a long time since I last made a direct appeal to you for donations. As always, I'm rather ambivalent about this request. On the one hand, I write because it's both a pleasure and an outlet. I'm delighted every day that all of you come here to read what I have to say and, often, stay and talk about it. Your contributions are themselves of great value. On the other hand, it's always nice to get money for the time and effort I put into this blog — something that's true even though my work here is a great pleasure and entirely voluntary on my part.
Speaking of things being entirely voluntary, if you feel so inclined, I would be very happy if you made a one-time contribution to the Bookworm Room. If you don't, no worries — just keep coming back to enjoy the content here. And if you really like what I have to say and think it contributes to the national conversation, share it with your friends.
Image credit: Hand Putting Deposit Into Piggy Bank, by Ken Teegardin of www.SeniorLiving.Org. Creative commons; some rights reserved.