Today's economic news gives a hook for the 2018 midterm campaign
The economic news out on Friday provides a ready-made slogan for Republicans going into the 2018 midterm campaign this Fall.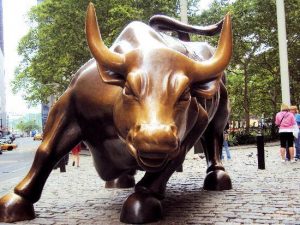 Trump, keeping yet another one of his campaign promises, has given us an "unexpected" booming economy (except that those of us who believe in low regulation, low taxes, and high optimism were not surprised at all). His combination of economic optimism, deregulation (which is happening despite the Left's attempt to block it through the courts), and lower taxes have had their inevitable effect:
The economy added 313,000 jobs in February, crushing expectations, while the unemployment rate remained at 4.1 percent, according to a Labor Department report Friday that could help quell inflation fears.

Economists surveyed by Reuters had been expecting nonfarm payroll growth of 200,000 and the unemployment rate to decline one-tenth of a point to 4 percent.

An increase in the labor force participation rate to its highest level since September helped keep the headline unemployment number steady, as the number of those counted as not in the workforce tumbled by 653,000 to just over 95 million.

The total counted as "employed" in the household survey surged by 785,000 to a record 155.2 million.

A separate measure that takes into account those out of the workforce and the underemployed — sometimes referred to as the "real" unemployment rate — held steady at 8.2 percent.

Stocks surged following the report, with the Dow industrials up 375 points Friday afternoon after being slightly negative before the news.
You realize, of course, that the 2018 midterm campaign slogans now write themselves: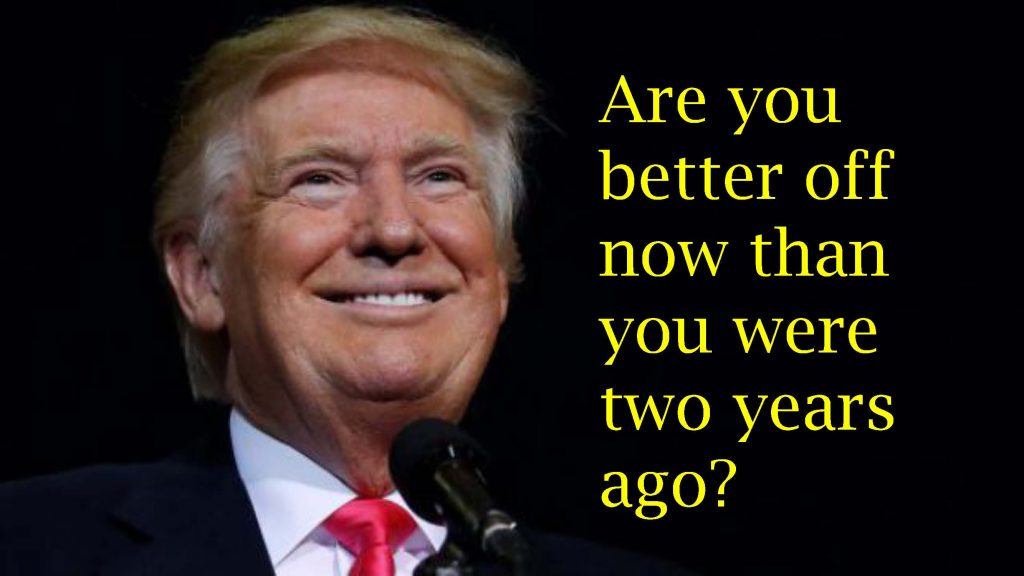 While we're on the subject of the economy, I'm not feeling threatened by Trump's plans with tariffs. He's quite correct when he says that what we've had for many years isn't free trade, it's simply unfair trade, with America lying supine and letting economically predatory nations prey on her. After all, when Adam Smith wrote Wealth of Nations, he could not have imagined a country such as China waging passive-aggressive war on America by using a significant part of the Chinese economy to dump cheap goods on the American market. Or as Trump explains:
From Bush 1 to present, our Country has lost more than 55,000 factories, 6,000,000 manufacturing jobs and accumulated Trade Deficits of more than 12 Trillion Dollars. Last year we had a Trade Deficit of almost 800 Billion Dollars. Bad Policies & Leadership. Must WIN again! #MAGA

— Donald J. Trump (@realDonaldTrump) March 7, 2018
China has been asked to develop a plan for the year of a One Billion Dollar reduction in their massive Trade Deficit with the United States. Our relationship with China has been a very good one, and we look forward to seeing what ideas they come back with. We must act soon!

— Donald J. Trump (@realDonaldTrump) March 7, 2018
The U.S. is acting swiftly on Intellectual Property theft. We cannot allow this to happen as it has for many years!

— Donald J. Trump (@realDonaldTrump) March 7, 2018
Looking forward to 3:30 P.M. meeting today at the White House. We have to protect & build our Steel and Aluminum Industries while at the same time showing great flexibility and cooperation toward those that are real friends and treat us fairly on both trade and the military.

— Donald J. Trump (@realDonaldTrump) March 8, 2018
One other thing: It's a myth or a lie (depending who's telling it) that these tariffs are something new and terrible. As the invaluable Don Surber points out, America is drowning in tariffs — in 2010, we had 12,000 tariffs. What's interesting is that many of them seem to be aimed at protecting every class but for Blue Collar workers. In other words, just as is true for everything else in the American economy since Reagan, Blue State policies harm Blue Collar workers — whether it's tariffs or taxes on cigarettes, steel, aluminum, solar panels, etc., the burden is always on the working class.
The U.S. is a supine rabbit, waiting to be eaten. We should be a friendly lion — willing to play, but also willing, if the need arises, to strike out hard. Trump's tariffs are lion stuff (and you can learn more about the details here, because you won't read it in the MSM).
At this point in Trump's presidency, I don't have blind faith in him, but I'm getting close to some pretty myopic faith. That is, I look at what he does, think about it, and half assume and half hope for the best. He does seem to work miracles simply by breaking out of stifling economic, political, and foreign policy paradigms that have failed time after time.
*****