Illegal immigration propaganda at LACMA (the Los Angeles County Museum of Art)
For almost a year now, LACMA (aka the Los Angeles County Museum of Art) has been pushing illegal immigration propaganda at taxpayer expense.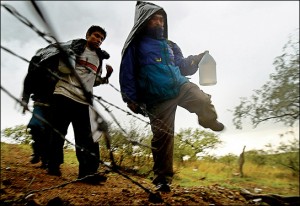 Los Angeles County taxpayers cough up $29 million a year to cover operating costs for the Los Angeles County Museum of Art, aka LACMA. I wonder if anyone asked them if they approve of the museum's newest installation: Carne y Arena (literally: meat and sand). The installation is intended to give the average museum goer (who's willing to sign a waiver) the illegal immigrant experience. Here's how the museum describes the exhibition, which opened last July and ends at the beginning of this July:
Alejandro G. Iñárritu's conceptual virtual reality installation CARNE y ARENA (Virtually present, Physically invisible) explores the human condition of immigrants and refugees. Based on true accounts, the superficial lines between subject and bystander are blurred and bound together, allowing individuals to walk in a vast space and thoroughly live a fragment of the refugees' personal journeys. An immersive installation that reunites frequent collaborators Iñárritu and Emmanuel Lubezki alongside producer Mary Parent and ILMxLAB, CARNE y ARENA is centered around a 6 ½-minute virtual reality sequence for one person that employs state-of-the-art immersive technology to create a multi-narrative light space with human characters.

"During the past four years in which this project has been growing in my mind, I had the privilege of meeting and interviewing many Mexican and Central American refugees. Their life stories haunted me, so I invited some of them to collaborate with me in the project," Iñárritu says. "My intention was to experiment with VR technology to explore the human condition in an attempt to break the dictatorship of the frame, within which things are just observed, and claim the space to allow the visitor to go through a direct experience walking in the immigrants' feet, under their skin, and into their hearts."
That's a pretty bland, abstract description. A pro-illegal immigration Proggie friend of mine, though, went and was blown away by the wonder of it all. I've restated his glowing description in my own less glowing words, but the substance of what he said is still there.
The exhibition is meant to have you experience through virtual reality (it's hot and sandy in the exhibition) what a Honduran, El Salvadoran, Merxican or Guatemalan experiences as he or she journeys north through the Sonoran desert to enter America illegally through Arizona. After you've signed a waiver, lest the good folks at LACMA make you uncomfortable, and taken off your shoes, your adventure begins.
Thrill to the experience of having border guards surround you with helicopters and vans to arrest you. Then, having gotten yourself (as promised) hot and covered with sand, you get to see videos of real illegal aliens reenacting their experiences for the camera. (I assume it's some form of PTSD psychotherapy for illegal aliens.)
For example, you meet one of these illegal aliens, who eventually took the place of a legal American citizen at taxpayer-funded UCLA law school. He's very upset that he's being asked to return to his native country. Apparently his native country is not interested in taking in his American born wife and children (go figure!). He, meanwhile, seems not to understand that his expensive taxpayer-funded education might be of some use to the citizens in his native country who haven't had the benefit of breaking into another country and stealing its wealth.
And no, I couldn't care less whether this illegal alien lawyer (who, if he is licensed, swore to uphold the Constitution and the laws of the United States and the State of California) came to America as an innocent child. Thanks to his parents' illegal conduct, he got a huge freebie — a freebie denied the children of American-born criminals. Now it's his turn to pay that freebie forward to the beleaguered citizens of the poor nation from which he came. He should be grateful, not greedy.
I've written time and time again that the push to bring illegal aliens to America is unbelievably cruel in that it allows corrupt Latin American governments to send its workers to America to remit money to float the corruption, and to send its drugs and criminals to America, something that simultaneously brings in funds and exports bad actors. As long as America, however unwillingly, acts as a safety valve for Latin America's myriad failures, there is no incentive to fix the problem. Meanwhile, California, which has a fifth of America's illegal immigrants, every day becomes more of a third world nation.
Don Surber sums things up nicely:
Illegal immigration is the biggest exploitation of a people since slavery.

Many people make good money off this Fake Dream.

First, there are the coyotes who bring people to the USA illegally. They get money transporting bodies just like slave ships did.

Then there is the Mexican government, which dumps freeloaders on us — the ones who seek a fatter government check from the gringos.

Call them soylent green because Mexico's chief export now is people.

Illegal aliens (and legal residents) send Mexico back $26 billion a year in what is euphemistically called remittances. Much of this is under-the-table money from shady employers, drug dealers, and of course, the trading of food stamps for cash.
He has much more to say and I suggest you read it all. It certainly helps explain why, even though Obama owned Congress for two years, he refused to fix immigration, choosing instead to violate America's immigration laws. There's money and votes to be had from them thar illegals.
*****