San Francisco has a new neighborhood for the SF geography game
For those who grew up playing San Francisco geography by asking "What neighborhood are you from?" there's a brand new, San Francisco neighborhood to learn.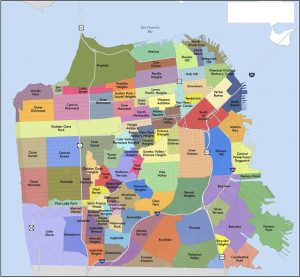 San Francisco is a small city — only 49 square miles. What this means is that, when native San Franciscans meet, they always ask at least one question of two questions (and sometimes both). The first question, in a true San Francisco accent, is "Where'd'ja go to school?" The second question is "What neighborhood did'ja grow up in?" Both questions quickly establish anything one needs to know about a San Francisco native. (I know that other city natives do the same but, because San Francisco is geographically so small, natives are more likely to know each neighborhood and its stereotype.)
For example, if a person where to say "I went to the Madams and grew up in Sea Cliff," you would know that they were very wealthy and Catholic. The Madams meant Convent of the Sacred Heart High School and Sea Cliff is one of San Francisco's wealthiest neighborhoods. Not all students at the Madams, though, were Catholic. Dianne Feinstein went there despite being nominally Jewish.
If a girl were to say, "I went to Mercy" or a boy were to say "I went to Riordan," you'd know they were middle-class Catholic. You could tell how high or low they were in the middle class range depending on the neighborhood in which they grew up. St. Francis Woods meant upper middle class, while ones class if one lived in the Sunset or the Richmond depending on how close they were to the ocean. The closer they were, the less classy, because these houses had no view and the salt air damaged everything. Even though the racial mix has changed (the Sunset and the Richmond are extremely Asian now), the economic and class story they tell remains unchanged.
I grew up in the more southwesterly edge of the City, so I understood those neighborhoods and schools best. Still, if someone told me they went to Galileo High School and grew up in the Marina, I would think they were likely Italian and might come from an old San Francisco family. If they came from Hunter's Point, I could tell with my eyes closed that they were black and poor. When I was young, a kid who grew up in the Castro might either be working class or have slightly hippy dippy parents. By the late 1970s, there was a very good likelihood that the same kid had two moms or two dads. The latter meant a fair amount of affluence, with maybe a cabin in the Russian River area. The former almost invariably meant that the kid had a hippy household to go along with that lesbian vibe.
If people said they grew up in the Haight, you needed a little insider knowledge. If they were older and came from the upper Haight near Golden Gate Park, they were middle- to upper-middle class. If they were older and came from the lower, more easterly part of the Haight, they were working class. Still more easterly, they were poor and black. People who grew up there after the 1960s, though, were in two categories: the easterly end was still poor and black, the westerly end was hippies. In the last decade, thanks to gentrification, the western end is now wealthy Progressives — and even they are disgusted by the City's filth.
In other words, San Francisco neighborhoods are intensely meaningful to San Franciscans. They allow you to form snap judgments about people. Indeed, there are now stereotype or judgment maps of San Francisco (and, as I discovered, a lot of other cities). This one shows that some of my info is dated, but on other stuff, I'm still right in there understanding SF dynamics: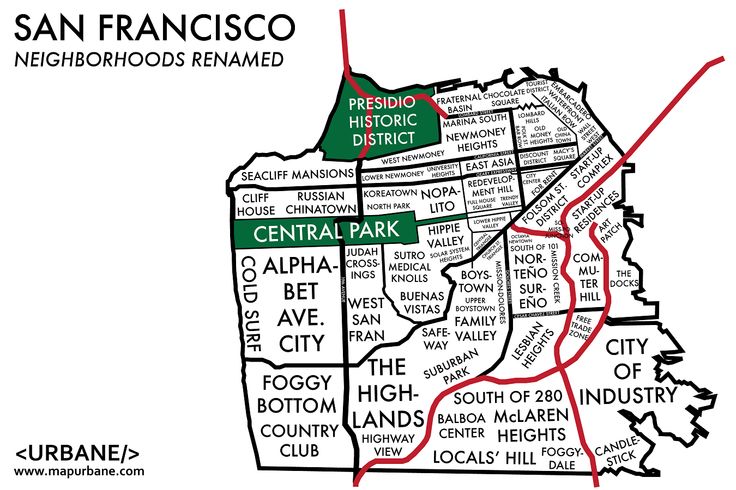 It therefore tells me a lot about the City that San Francisco has added an official new neighborhood:
San Francisco's gay and leather community is set to get its own cultural district as part of a broader city effort to preserve neighborhoods at risk of disappearing under rising rents.

The San Francisco Board of Supervisors will vote on a resolution Tuesday that would create the Leather and LGBTQ District in part of the city's South of Market neighborhood.

The neighborhood remains home to gay and kink bars and the popular Folsom Street Fair, which draws thousands of people every year to celebrate "leather sexuality."
I can already see myself meeting a native San Franciscan and saying, "What neighborhood did'ja come from?"
"I'm from the Leather District."
"Really? Were there once tanneries there, or are there a lot of leather-goods stores?"
"I guess you could say the latter. It's home to more S&M bars per square block than any other city in the world!" [That's my guess. I have no data to back up that assertion.]
"You must be so proud."
Famed San Francisco columnist called San Francisco "the city that knows how." I guess it still knows how, but the thing that it knows how to do isn't necessarily anything attractive to the kind of thriving middle class that keeps a city alive. Indeed, I pointed out just a few days ago that, all across America, the old Democrat party machinery that once provided city residents with decent services and clean streets in exchange for a healthy dollop of graft and other corruption, is broken. Cities may as well be hanging signs out saying "Families, people with traditional values, the middle class, and other taxpayers no longer welcome here."
*****