Bill Whittle on Kanye, and home truths about Blacks and Dems
Bill Whittle explains as only he can why Progressives are hating on Kanye and I offer some fact-based reasons why more blacks should follow Kanye's lead.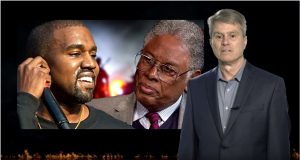 Bill Whittle is out with a new video looking at the terrible thought crime Hip-Hop star Kanye West committed against the Democrat establishment. As with all of Whittle's videos, watching it will make you smarter and help you better understand the world in which we live. You'll also agree that Kanye did something magnificent and brave, and that's true even if you disagree with him about most things. So carve out the 7 minutes and watch this video:
I thought I'd wrap this post up with a few talking points should you find yourself in conversation with a Democrat, no matter that Democrat's race:
As Bill Whittle said in the video, it really would be impossible for Republicans to do worse by blacks than Democrats have. Certainly Donald Trump has proven once again the truism that a rising tide lifts all boats, no matter their color. No wonder that, in the wake of Kanye's brave and heretical act, black male support for Trump has doubled. Moreover, if blacks are willing to embrace the Trump/conservative economy, maybe it's time for American blacks to follow Kanye's advice and start embracing other conservative principles. I can guarantee that they'll be pleasantly surprised.
*****