Part I: The faux grounds for Trump's impeachment and his perfect defenses
The Dem's have no statutory basis to demand Trump's impeachment — and Trump has valid defenses to charges that his Ukraine dealings were an abuse of power.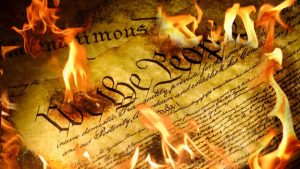 This will be a two part post.  Part I deals with the law relating to impeachment.  Part II will deal with how the Senate should handle the trial of any Articles of Impeachment that come out of the House's Star Chamber impeachment inquiry.
Introduction
Let's assume for argument's sake that the Democrats running the House's Star Chamber impeachment inquiry do in fact come up with Articles of Impeachment.  What will they be?  And will the President have any affirmative defenses?
No less a legal and historical scholar than Maxine Waters claimed in 2017:
Impeachment is about whatever the Congress says it is. There is no law that dictates impeachment. What the Constitution says is 'high crimes and misdemeanors,' and we define that.
If true, that would leave the President with no defense other than that the Democrats are wrong on the facts.  Thankfully, Waters is  wrong.  To the contrary, the parameters for impeachment are defined at law and, because of that, the Democrats face insurmountable obstacles in impeaching Donald Trump for any and all acts related to his July 25 phone call with President Zelenksyy of Ukraine.
First, the House cannot validly impeach Trump for using the same powers other presidents traditionally wielded. Thus, if it has been custom and practice for presidents to negotiate using foreign aid as a tool, then Trump's doing so is similarly beyond a valid impeachment charge.
Second, the House cannot validly impeach Trump for asking a foreign power to aid him in the legitimate exercise of his constitutional authority. Leaving aside whether Trump might personally benefit from the investigation, no American citizen (even, theoretically, Hillary Clinton) is above the law. The fact that an election looms does not change that fact. In other words, Democrats cannot avoid criminal culpability by insisting that investigations are illegal as an election draws near.
The Law of Impeachment
The Constitution, Article II, § 6, states that impeachment is a remedy that can be used to remove "civil officers" for "treason, bribery, or other high crimes and misdemeanors." The Founders, writing a Constitution and not a hornbook, did not further define "high crimes and misdemeanors," because they did not need to define it for it was a phrase well defined in British common law of the era.
Note: For those unfamiliar with the phrase, "common law" is nothing more than "judge made law," as opposed to legislatively-created statutes. Past judicial decisions are looked to as precedent for future decisions, a practice that, in 18th Century Britain, created most of the "law of the land" and defined many rights vested in British citizens.  Much of our Constitutional provisions and our rights as Americans come out of British law as it existed in 1787, and the "common law" is still an element of law in Britain and the United States today.
When the Founders relied upon recognized "common law" principles related to impeachment, they looked to the 500 years of British judicial history before 1787 (See John Hatsell, Precedents and Proceedings In The House of Commons, Vol. IV (Impeachment) (1796)).  It is that body of common law that defines "impeachment" as the term is used in the U.S. Constitution.  In his seminal study of the Constitution, Commentaries on the Constitution, 3 Volumes, (1833), Supreme Court Justice Joseph Story examined impeachment in Vol. II (§§ 794-96). He opened his examination by acknowledging the role common law played in understanding the doctrine:
The only practical question is, what are to be deemed high crimes and misdemeanours? Now, neither the constitution, nor any statute of the United States has in any manner defined any crimes, except treason and bribery, to be high crimes and misdemeanours, and as such impeachable. In what manner, then, are they to be ascertained?
After dispensing with commission of crimes in office as an obvious grounds for impeachment, Story addressed "political" offenses as grounds for impeachment, as well as the limitation upon those offenses:
. . . [T]here are many offences, purely political, which have been held to be within the reach of parliamentary impeachments, not one of which is in the slightest manner alluded to in our statute book. And, indeed, political offences are of so various and complex a character, so utterly incapable of being defined, or classified, that the task of positive legislation would be impracticable, if it were not almost absurd to attempt it. . . . Resort, then, must be had either to parliamentary practice, and the common law, in order to ascertain, what are high crimes and misdemeanors; or the whole subject must be left to the arbitrary discretion of the senate, for the time being.

The latter is so incompatible with the genius of our institutions, that no lawyer or statesman would be inclined to countenance so absolute a despotism of opinion and practice, which might make that a crime at one time, or in one person, which would be deemed innocent at another time, or in another person.  [Emphasis added]  The only safe guide in such cases must be the common law, which is the guardian at once of private rights and public liberties.
(At the bottom of this post, you will find a handy-dandy poster reflecting this principle, which you can share with friends on social media.)
Story then lists a wide range of offenses for which officials were impeached in Britain since the 14th century. almost all involving neglect, oppression, or exercise of arbitrary power.  Thus, contrary to what Maxine Waters claims, there are limitations on what constitute impeachable offenses. The official charged must have deviated from a historically established pattern and practice.  Democrats cannot validly impeach the President for duly exercising the powers of his office, nor for reasonably acting to investigate crimes for breaking the laws of the land.  Indeed, the President is bound by his office to enforce the laws of this nation.
More recently, Alan Dershowitz has also weighed in on what can legitimately constitute a charge of "high crimes and misdemeanors."  His view, actually more restrictive than Story's, is in agreement with Story that there are outer boundaries and that simple political offenses or, as Dershowitz frames it in the language of Madison, "maladministration," do not constitute "high crimes and misdemeanors.
There is a debate among students of the constitution over the intended meaning of "high crimes and misdemeanors." Some believe that these words encompass non-criminal behavior. Others, I among them, interpret these words more literally, requiring at the least criminal-like behavior, if not the actual violation of a criminal statute.

What is not debatable is that "maladministration" is an impermissible ground for impeachment. Why is that not debatable? Because it was already debated and explicitly rejected by the framers at the constitutional convention. James Madison, the father of our Constitution, opposed such open-ended criteria, lest they make the tenure of the president subject to the political will of Congress. Such criteria would turn our republic into a parliamentary democracy in which the leader — the prime minister — is subject to removal by a simple vote of no confidence by a majority of legislators. Instead, the framers demanded the more specific criminal-like criteria ultimately adopted by the convention and the states.
Of course, since 1789, it is U.S. History that defines impeachment in our country.  Notably, in the three past instances in which the House has impeached a president, each has been for an actual crime committed by the President.  The House impeached Andrew Johnson for violating a law of dubious constitutionality when he removed the Secretary of War. The Senate refused to convict.  The House impeached Bill Clinton when he committed a crime in a civil case by perjuring himself when asked about his having had sex with a White House intern. The Senate refused to convict.  Lastly, the House voted to investigate Richard Nixon, when he was an accessory after the fact to the criminal Watergate Hotel break-in. Nixon resigned.
The bottom line is that there are limitations on what grounds exist for impeaching a president, that a president cannot be impeached for engaging in a historically established pattern and practice, and that past presidential impeachments have revolved around criminal acts. So what have the Democrats got?
The possible bases for the Democrats' Articles of Impeachment
I. Statutory bases for impeachment
When trying to predict the Democrats' future actions, only three possible laws or legal conflicts come to mind — that Trump violated campaign finance laws, that he obstructed justice, and/or that he interfered with Congress's power of the purse. As set forth below, however, none of those are applicable.
A.  Campaign Finance Law
The Whistle Blower asserted that Trump's July 25 phone call, in which he sought information about the 2016 Russian hoax and potential corruption by Joe and Hunter Biden, broke a law relating to campaign finance.  He cited 52 U.S.C. § 30121, which makes it illegal to accept any "contribution or donation of money or other thing of value" from a foreign national.  But no court has ever interpreted the term "other thing of value" to include mere information.  Even the highly partisan Mueller team, when explaining their decision not to prosecute Trump Jr.'s meeting at Trump Tower with Russians for the express purpose of obtaining facts detrimental to Hillary Clinton, stated at Vol. I, p. 187:
[N]o judicial decision has treated the voluntary provision of uncompensated opposition research or similar information as a thing of value that could amount to a contribution under campaign-finance law. Such an interpretation could have implications beyond the foreign-source ban, see 52 U.S.C. § 30116(a) (imposing monetary limits on campaign contributions), and raise First Amendment questions. Those questions could be especially difficult where the information consisted simply of the recounting of historically accurate facts.
B.  Obstruction of Justice
The House may go so far as to claim that Trump obstructed justice by refusing to cooperate with the House's "impeachment inquiry" regarding the Ukraine matter.  This will not fly.
The House doesn't normally have judicial power for the Constitution, at Article III, explicitly provides that the "judicial power" resides in the Courts.  The House can assume "judicial power" for a limited period of time only if and when the House of Representatives authorizes it.  Trump maintains that the House, which has repeatedly voted not to open impeachment inquiries against him, is operating unlawfully and his administration has no duty to comply.
Importantly, even as Trump has refused to respond to subpoenas, the House has assiduously avoided testing its subpoenas in Court.  Law professor Alan Dershowitz dealt with this issue in a recent article at Gatestone Institute, Impeachers Searching For New Crimes:
This brings us to President Trump's directive with regard to the impeachment investigation. Under our constitutional system of separation of powers, Congress may not compel the Executive Branch to cooperate with an impeachment investigation absent court orders. Conflicts between the Legislative and Executive Branches are resolved by the Judicial Branch, not by the unilateral dictate of a handful of partisan legislators. It is neither a crime nor an impeachable offense for the president to demand that Congress seek court orders to enforce their demands. Claims of executive and other privileges should be resolved by the Judicial Branch, not by calls for impeachment.
C.  The Withholding of Aid
Aid for Ukraine was part of Public Law 116-6, which Trump signed on February 15, 2019.  Nothing in the law states specifically when the funds must be released (just as there was none in the 2016 law, when Joe Biden threatened to withhold aid from Ukraine), with the only proviso being that the administration must disburse before the fiscal year in question ends. When it comes to Trump and aid to Ukraine, his administration transferred or otherwise made the 2019 funds available to Ukraine by September 10, 2019, well before the end of the fiscal year.
One can argue whether any president has inherent power to withhold aid permanently from a foreign country once Congress has authorized the money — something President George H.W. Bush did when he unilaterally cancelled aid appropriated for Yemen in 1991 — but that is not a question applicable to this situation.  Moreover, as David Rivkin points out at WSJ and in his blog, "Congress attempted to curtail this power [i.e., the President's power to withhold foreign aid] with the Impoundment Control Act of 1974, but it authorizes the president to defer spending until the expiration of the fiscal year or until budgetary authority lapses, neither of which had occurred in the Ukraine case."  Thus, nothing President Trump did conflicted with Congress's Constitutional power of the purse.
II.  Non-statutory basis for impeachment
Leaving the law behind, Democrats seem to think they have a wide range of possible grounds to impeach Trump (GrabieNews has so far compiled a list of 95 bases), almost all of which are ultimately nothing more than "orange man bad and we disagree with his policies." That said, the only one that would pass the laugh test would be a charge that the President abused his power by conditioning foreign aid to Ukraine on opening investigations relating to the Russia hoax and to Joe Biden, a 2020 candidate for President.  This is the "quid pro quo" that will almost surely be in any Articles of Impeachment.
There are multiple problems with this quid pro quo argument, the first being that presidents have primary authority over foreign policy.  Historically, presidents have regularly used foreign aid as leverage when negotiating with foreign countries.  As David Rivkin explained:
More fundamentally, the Constitution gives the president plenary authority to conduct foreign affairs and diplomacy, including broad discretion over the timing and release of appropriated funds. Many presidents have refused to spend appropriated money for military or other purposes, on grounds that it was unnecessary, unwise or incompatible with their priorities.

Thomas Jefferson impounded funds appropriated for gunboat purchases, Dwight Eisenhower impounded funds for antiballistic-missile production, John F. Kennedy impounded money for the B-70 bomber, and Richard Nixon impounded billions for highways and urban programs. Congress attempted to curtail this power with the Impoundment Control Act of 1974, but it authorizes the president to defer spending until the expiration of the fiscal year or until budgetary authority lapses, neither of which had occurred in the Ukraine case.

Presidents often delay or refuse foreign aid as diplomatic leverage, even when Congress has authorized the funds. Disbursing foreign aid—and withholding it—has historically been one of the president's most potent foreign-policy tools, and Congress cannot impair it. Lyndon B. Johnson used the promise of financial aid to strong-arm the Philippines, Thailand and South Korea to send troops to Vietnam. The General Accounting Office (now called the Government Accountability Office) concluded that this constituted "quid pro quo assistance." In 2013, Barack Obama, in a phone conversation with Egyptian President Abdel Fattah Al Sisi, said he would slash hundreds of millions of dollars in military and economic assistance until Cairo cooperated with U.S. counterterrorism goals. The Obama administration also withheld millions in foreign aid and imposed visa restrictions on African countries, including Uganda and Nigeria, that failed to protect gay rights.
So, all things being equal, Congress has no right to curtail the Executive's historic powers. Again, to reiterate what Story said, Congress may not "make that a crime at one time, or in one person, which would be deemed innocent at another time, or in another person." Moreover, under the statute as written, Trump had authority over the timing of aid to the Ukraine at least through the end of the fiscal year.
That being the case, we are left with one remaining question: Did Trump use his legitimate power towards an end that was itself an abuse of power?
The Democrats desperately want to answer that question affirmatively. They insist that asking for any investigative assistance into crimes that may have been committed in the 2016 Russia Hoax and any crimes committed by Joe Biden are so beyond the pale as to justify impeachment and overturn an election.  Their problem is that nothing that Trump did is an abuse of the power because the Constitution imposes upon the president the obligation to "take care that the laws be faithfully executed."  Indeed, it is ludicrous to suggest to the contrary, at least unless we are to amend the Constitution, explicitly or implicitly, to hold that progressives are above the law.  We will be in a shooting civil war before that happens, whether in fact or in deed.
Consequently, as Rivkin further states at the WSJ and in his blog,
Investigating Americans or Ukrainians who might have violated domestic or foreign law—and seeking the assistance of other nations with such probes, pursuant to mutual legal-assistance treaties—cannot form a legitimate basis for impeachment of a president.
It is common for presidents to ask their foreign counterparts to assist Justice Department investigations. House Democrats will not acknowledge this because they seek to delegitimize the Barr/Durham probe as a Trump 2020 campaign initiative; but it is not.
The sole factual issue for this defense will be whether Trump had valid reason to request Ukraine's assistance in investigation the Russia hoax and whether Trump had a reasonable basis to inquire further into Joe Biden's possible criminal acts, specifically whether he violated 15 U.S.C. § 78dd-3 (Prohibited foreign trade practices by persons other than issuers or domestic concerns).
As to the former, the mere fact that the DOJ is reviewing the origins of the worst political scandal in our nation's history, namely the attempted coup that was the Russian Hoax (let alone that it is now a criminal investigation), was a valid justification for Trump's request for assistance from the Ukraine.  Moreover, President Trump had a predicate — i.e., a reasonable indication to believe that a crime may have been committed — to ask for assistance investigating whether, when Joe Biden demanded that the Ukrainian Chief Prosecutor be fired as a non-negotiable condition for receiving American aid, the Prosecutor was investigating Hunter Biden directly or indirectly through his Burisma ties.  Cry as the progressives might, this is a legitimate issue, one raised at the time internally during the Obama administration, one that Joe Biden proudly boasted about and, nevertheless, one that the Obama administration never investigated.
I can think of no other grounds for impeachment, though I am sure Schiff & Co. will have some inventive surprises.  In the next post, I will deal with how the trial in the Senate should proceed, given that the House has denied any due process rights, including the right to be represented at the hearings, to the President.  There are more than ample ways — fully Constitutional — in which the Senate can vindicate the rights of the President, hold a fair trial, and make the House Democrats rue their sins in the process.
____________________