History, Holidays & Observances – November 28: Happy Thanksgiving
A look at some of the history and holidays on November 28, the Thanksgiving Edition
Holidays & Observances on November 28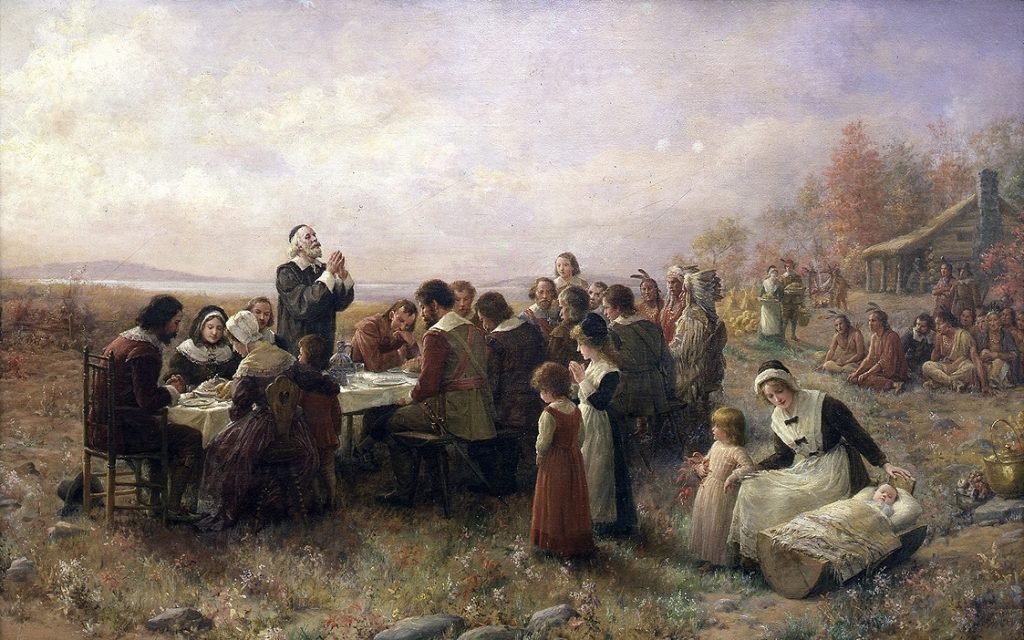 Thanksgiving Day —  In 1620, the Mayflower set out with 102 people aboard, most of whom were pilgrims had left their home of 12 years in Leiden destined for Virginia to find a home where they could freely worship God as they saw fit. As William Bradford, a leader of the expedition would later write:
So they lefte [that] goodly & pleasante citie, which had been ther resting place, nere 12 years; but they knew they were pilgrimes, & looked not much on these things; but lift up their eyes to ye heavens, their dearest cuntrie, and quieted their spirits
They made it as far as Cape Cod, then, with dwindling provisions and winter fast approaching, put ashore.  In the harsh winter to follow, only half of the Pilgrims survived to see Spring.  Those that did survive, assisted by the the Patuxet Squanto and the Wampanoag tribe, were able to plant crops.  Sometime after the harvest, between the end of Sept., and early November, 1621, the Pilgrims held a harvest feast to thank God for their survival and their bounty, and to thank the Indians for their help.  The fifty surviving Pilgrims and approximately 90 Indians took part in the three day feast.  And yes, they did eat turkey, among many other dishes.
It was quite common, in the 18th century, for governments and church leaders to call for a day of "fasting and prayer" to mark a particular event.  What made the 1621 celebration of the pilgrims different was in combining the harvest feast with prayer — though not coupled with a Sabbath celebration — to celebrate not just the harvest, but their journey to and survival in the New World.  Several colonies had similar local traditions, perhaps Virginia even earlier than the Pilgrims, But it was the Pilgrims who apparently had the superior marketing.
The first national proclamation of a day of Thanksgiving was by Continental Congress in 1775 and calls for the same went out most every year until we became a fledgling nation.  Then, in 1789, it was George Washington who issued a Thanksgiving Proclamation for our nation organized under the newly adopted Constitution.
Between then and 1863, Thanksgiving celebrations were wholly local.  What changed in 1863, when President Lincoln was moved to issue his own proclamation for a national day of Thanksgiving,  was the dogged lobbying of the president by "Sarah Josepha Hale—a novelist, poet, and the editor of "Godey's Lady's Book," a lifestyle magazine with an impressive pre-Civil War circulation of 150,000:"
Hale saw Thanksgiving as an important supplement to the nation's principal civic holiday: Independence Day. While Independence Day celebrates the birth of our nation, our Founding Fathers, and our founding principles, Thanksgiving celebrates the origins of the American people, family, and faith in God.

As Hale wrote in 1852: "The Fourth of July is the exponent of independence and civil freedom, Thanksgiving Day is the national pledge of Christian faith in God, acknowledging Him as the dispenser of blessings."

Nondenominational faith in a providential God was a prominent component of Lincoln's Thanksgiving proclamation—as it had been in Washington's first proclamation—and it has remained so in nearly every presidential proclamation since.

While Independence Day celebrates our freedom, Thanksgiving celebrates the faith that prevents that liberty from degenerating into licentiousness. While Independence Day celebrates our nation's sovereignty, Thanksgiving reminds us that God should be the source of our highest devotion.

Hale envisioned that a nationwide celebration of Thanksgiving would also help bind the nation together more tightly. Living under the same Constitution and the same federal government was, in her estimation, not enough to forge one people from America's diverse inhabitants and distinct regions.
After Lincoln, Presidents annually proclaimed a day to be set aside for Thanksgiving.  The only alteration came about in 1941, when FDR slightly adjusted the timing of the celebration to be held in November.
That is the story of Thanksgiving and its importance — a day to bind us together as a single nation.  But there is yet another important lesson from the Pilgrims without which any celebration of Thanksgiving would be superficial:
Major Events on November 28
1520 – Ferdinand Magellan
The Portugese explorer Ferdinand Magellan, leading a flotilla of five ships, had left Spain in 1519 searching for a route to the "spice islands" (Maluku Islands in modern day Indonesia).  On this day in 1520 he discovered (and named) the Strait of Magellan, an important sea route connecting the Atlantic and Pacific Oceans during the Age of Sail and prior to the opening of the Panama Canal.  It was and is a difficult passage even today, but it saves ships from having to navigate around the southern tip of South America through the Cape Horn, perhaps the most dangerous waters on earth.
Magellan continued with his expedition, reaching the Philippine islands, where Magellan was killed during the Battle of Mactan in 1521,  The expedition later reached the Spice Islands and one of the surviving ships with 18 crewmen aboard, captained by Juan Sebastián Elcano, returned home via the Indian Ocean in 1522, completing the first circumnavigation of the globe.  None-the-less, it was Magellan who received the glory posthumously.

Notable Events on November 28
1811 – Beethoven's Piano Concerto No. 5 in E-flat major, Op. 73, premieres at the Gewandhaus in Leipzig.
1919 – Lady Astor is elected as a Member of the Parliament of the United Kingdom. She is the first woman to sit in the House of Commons.
Born on November 28
1628 – John Bunyan, English preacher and author of an immensely popular book both in Britain and colonial America, The Pilgrim's Progress, first published in 1678.  It is written as a dream where a young man named Christian sets off on a journey to fined the "celestial city," heaven.  Along the way, he must negotiate challenges posed by allegorical characters and places that would lead him off his path, such as Wanton, a temptress, or the Slough of Despond, and Vanity Fair.  The book has been translated into more than 200 languages, and has never been out of print.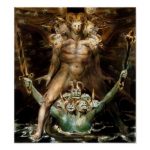 1757 – William Blake, English poet, painter and all around odd bird.  His works, very creative, often allegorical and apocryphal, drew little acclaim in his lifetime but have become hugely popular since his passing.  The thumbnail to the left is one of the "Red Dragon" paintings by Blake, meant to illustrate Revelations.
Died on November 28
1994 – Jeffrey Dahmer, American serial killer and connoisseur of exotic cuisine..  There is a story told about Dahmer, perhaps apocryphal.  One day his mother came to visit.  He prepared supper for her.  As they were eating, she told her son, "Jeffrey, I don't care for your friends."  Dahmer responded, "Oh, Mom . . . try the salad."