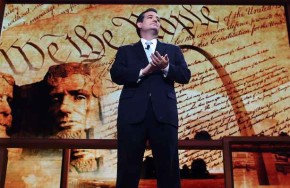 I've made no secret of the fact that I support Ted Cruz. I realize he's not perfect, but no candidate is. What matters to me is that his political values most closely align with mine, that he's not scared of a fight (and, especially, he's not scared of the media), and that he is truly smarter than just about everyone else out there. I learned yesterday, though, that Kimberley Strassel at the Wall Street Journal most definitely does not like Cruz. She wrote a savage hit piece on him essentially blaming him for ISIS's ability to spread throughout the United States. (That spread, of course, has nothing to do with Obama's open borders policy and the contempt he shows for every person and idea that suggests that Islam might have a problem.)
But before honing in on her perception about Cruz's alleged security failures, Strassel first lambastes him as a rank opportunist who cares only about self-aggrandizement and refuses to take care of the GOP's needs:
The senator's supporters adore him because they see him in those moments when he has positioned himself as the hero. To them he is the stalwart forcing a government shutdown over ObamaCare. He's the brave soul calling to filibuster in defense of gun rights. He's the one keeping the Senate in lame-duck session to protest Mr. Obama's unlawful immigration orders.

Mr. Cruz's detractors see a man who engineers moments to aggrandize himself at the expense of fellow conservatives. And they see the consequences. They wonder what, exactly, Mr. Cruz has accomplished.

ObamaCare is still on the books. It took the GOP a year to recover its approval ratings after the shutdown, which helped deny Senate seats to Ed Gillespie in Virginia and Scott Brown in New Hampshire. Mr. Obama's immigration orders are still on the books. The courts gained a dozen liberal judges, all with lifetime tenure, because the lame-duck maneuver gave Democrats time to cram confirmation votes through. Mr. Cruz's opportunism tends to benefit one cause: Mr. Cruz.
So it's Cruz's fault we have Obamacare and it's his fault because . . . he took a principled stand against it?  (I admired that stand when he took it and I still do.) The fact is that Cruz is one of the few Republicans in Congress who actually stood by the party planks and actual promises he and other alleged conservatives made to voters since 2008. He is the only one in Congress on the right who shows the slightest bit of spine. So when Strassel writes, "but Obamacare is still on the books," the real question shouldn't be "How do we blame Ted Cruz?"  Instead, the real question should be "How did this happen when Republicans control Congress and the purse strings?"
Strassel's claim that, following Cruz's principled stand, it took Republicans "a year to recover," is patently ridiculous. Republicans have enjoyed greater electoral success in the past six years than the party ever has — and she is going to blame defeats in Virginia and Massachusetts on Cruz. That is infuriating.