Saturday afternoon clean laundry round-up and Open Thread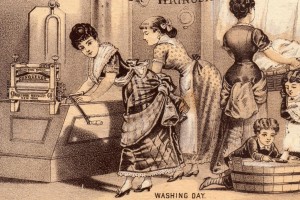 After a month living with a broken washing machine, I finally got my new one today. I feel revitalized.
I also have a few things I'd like to share with you….
***
The problem with toppling taboos is that, once you've started, it's hard to justify stopping. Take incest, for example.
There's never been a relationship between incest and homosexuality other than the fact that societies have considered both taboo. While incest has a stronger justification for the taboo — genetic defects and child abuse — the fact remains that one can always work around those problems. Now that homosexuality is no longer taboo in the West, one Australian judge contends that the next taboo is ready to fall.
The judge therefore argues that the availability of birth control and laws against child abuse open the way to legalizing incest. For what it's worth, on my "real me" Facebook, everyone, regardless of political and sexual orientation, was revolted by the judge's suggestion.
***
Eric Peters, a 23-year-old veteran who earned the Purple Heart after being wounded in Afghanistan, is walking across the United States to bring awareness to the VA's cavalier treatment of vets with PTSD. While in Ohio, he visited with the Brimfield Police Department, which described Peters' journey. If you're interested in helping Peters during his journey, you can donate here.
***
One of the most shameful aspects of the Obama administration is the way in which it's abandoned people in Afghanistan who put themselves at tremendous risk to assist our United States forces. In addition to deadly delays, the State Department's malfeasance is such that it's now run out of visas entirely. No matter how good American troops are, they cannot fight and win if their own government undermines them and intentionally or negligently exposes their in-country allies to deadly risks.
***
At Legal Insurrection, a primer on the false "Pallywood" narratives that spring up the minute Israel defends herself against terrorist attacks.
***
I posted yesterday about the fact that those people who have health care courtesy of the Obamacare subsidy are happy, and I'm happy for them. The problem is that making insurance available to low-income people could have been done without the government taking over 1/6 of the U.S. economy; without the government intruding into individual healthcare decisions; without kicking people off of their insurance; without making insurance cost prohibitive for people who are paying full fare; and without the insane glitches the government-run system has.
As for that last point — those insane glitches — Debra Burlingame describes the fiasco attached to her "Child Dental" payments. It makes for painful reading.
***
Some innocents thought that, if Obama had a second term, he'd stop blaming George Bush, not to mention everyone and everything else, for problems and would, instead, take responsibility for failures. Hah!
Peter Wehner thinks Obama's psychology may prevent him from taking any responsibility for the ever-lengthening list of disasters on his watch. I think Wehner's right. One of the defining characteristics of a malignant narcissist is that things are never his fault. The black hole of insecurity that is at the core of this personality disorder is too well-defended ever to take the blame for anything.
***
It seems that Thomas Piketty's neo-Marxism just took another blow: He completely neglected to factor in his analyses drastic changes in American tax law that dramatically increased people's retirement funds.
***
If you feel like being inspired, someone created General Patton inspirational posters.
***
Or perhaps you take your inspiration with cream and sugar. That cryptic statement refers to the fact that the fuel that ran the Civil War may well have been coffee. And in that vein, I suspect that the fuel that ran WWII was cigarettes. So my question for you is this: What substance, if any, has fueled our troops in Iraq and Afghanistan?
***
If a foolish consistency is the hobgoblin of little minds, Obama might indeed be as big-brained as his acolytes insist: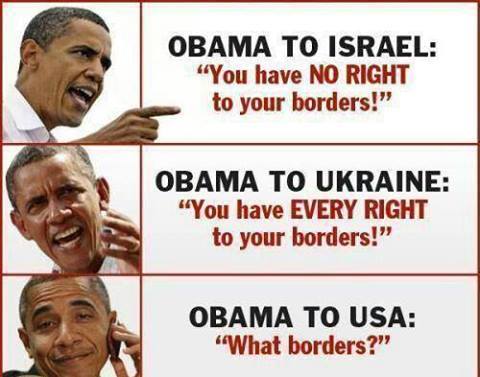 ***
Mary Burke, the Democrat front runner in Wisconsin's gubernatorial race, also refuses to have her mind hobgoblined with any foolish consistency. That's why this limousine liberal is demanding an end to out-of-state donations, even as 30% of her own campaign comes from out-of-state donors.
***
Your "feel good" Tweet for today:
A rocket fired from Gaza today fell short and crashed into UNRWA warehouses. Now there is a massive fire. pic.twitter.com/wHmMIuzATQ

— IDF (@IDFSpokesperson) July 12, 2014
Here's some other feel good news: Iron Dome protected Tel Aviv from the three missiles fired at it earlier today.
***
And your delightfully silly video for the day:
(All ingredients used were hamster and hedgehog safe.)
***
And finally, a few posters: