Appalled by its brief moment of decency and morality regarding Israel, the WaPo bounces back with pure antisemitism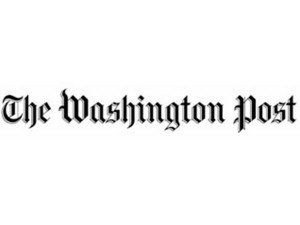 Two days ago, I lauded the Washington Post for publishing a rare anti-Hamas editorial.  I say "rare" because Israel supporters have long felt that the Washington Post has consistently slanted its news to be hostile to Israel.  This hasn't been done too overt a way.   Instead, it manifests itself in spin, subtle digs, and put downs to the Israelis, balanced by unreasonable praise for the Palestinians.  American Thinker has done a good job of catching these digs, slights, rubs, sneers, and disses.
That's why, as I said, it was so surprising to read what surely constitutes a common sense, even morally correct, editorial about the current war between Israel and Hamas:
SO FAR Hamas's military campaign against Israel has been a dismal failure.

[snip]

Why would Hamas insist on continuing the fight when it is faring so poorly? The only plausible answer is stomach-turning: The Islamic movement calculates that it can win the concessions it has yet to obtain from Israel and Egypt not by striking Israel but by perpetuating the killing of its own people in Israeli counterattacks. More than 200 people, including a number of children, have already died in Gaza; Hamas probably calculates that more deaths will prompt Western governments to pressure Israel to grant Hamas's demands.

So far, the tactic is not working. Secretary of State John F. Kerry on Tuesday condemned Hamas for rejecting the cease-fire and "us[ing] the innocent lives of civilians . . . as shields." But Hamas's commanders, who have burrowed into underground bunkers, appear to be doubling down. They are urging civilians who have left their homes to return, including some 15,000 who evacuated the northern part of Gaza in response to Israeli warnings.

[snip]

To its credit, Israel has used sophisticated technology, including targeted text messages and dummy warning missiles, to minimize civilian casualties. But innocent people will inevitably be killed in attacks on launchers and missile factories that are purposely placed in densely populated areas. The right response of the international community is not to surrender to Hamas's despicable tactics but to continue insisting that it unconditionally accept the cease-fire proposed by Egypt.
Maybe my reading skills have degraded lately, but I read the above to mean that the Washington Post editorial board understood that Hamas is deliberately placing its citizens in danger because that's the only real weapon it has in the war against Israel:  pictures of dead bodies used for propaganda purposes.  The editorial board also seemed to understand that Israel is making every effort to avoid killing the citizens Hamas pushes into the line of fire.  Was it possible that the editors were actually bothering to read the brilliant opinion pieces Charles Krauthammer has been writing on the subject?
Apparently it was not possible that the editors were exposing themselves to moral decency.  Indeed, it appears that, just like a fat person ending a virtuous diet with a grotesque bout of binge eating, The Washington Post, have experimented briefly with virtue, didn't just get back to subtle sneers and misrepresentations, but instead opted to launch itself straight into out-and-out antisemitism.  And that's why you will find this video on the Washington Post's internet site:
Sadie, who sent the above video to me, says that you can make your feelings known by sending an email to [email protected] or by mailing a letter addressed to The Editor, The Washington Post, 1150 15th Street NW, Washington DC 20071. Sadie adds, "The Washington Post prefers that letters be kept to two hundred words or less. I can't decide on "DROP DEAD" or "UP YOURS" one hundred times."
I guess we now know the WaPo's unofficial motto: "The American paper that Hitler would have loved to read."