Saturday night round-up (the moron edition) and Open Thread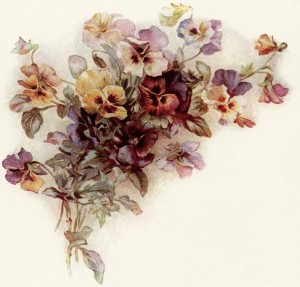 I did something today that I very seldom do: I went clothes shopping for myself. I spend an inordinate amount of time shopping for everyone else in the family, but between shopping fatigue, denial about my post-baby figure (although I'll concede I was too thin pre-babies), and the ridiculous amount of money clothes cost nowadays even on sale, there's no pleasure for me in the task.
My husband also reverts to totally stereotyped behavior. How stereotyped? Well, Dorothy Sayers was clearly writing about him way back in 1937:
"Why, it takes a man months and months to reconcile himself to a new hat. And just when you're preparing to send it to the jumble sale, he says, 'That's rather a nice hat you've got on, where did you get it?' And you say, 'My dear Henry, it's the one I had last year and you said made me look like an organ-grinder's monkey.' My brother-in-law says that every time, and it does make my sister so wild."

— Sayers, Dorothy L., Gaudy Night (Kindle Locations 904-908). Open Road Media.
As if he'd read the script, Mr. Bookworm was suddenly much taken both with my decade-old jeans (telling me the holes were "fashionable") and with the shirt that, when I bought it two years ago, he told me made me look as if I was dressing in a sack.  Men!
Mr. Bookworm's new-found fondness for my old clothes notwithstanding, I do not find holes fashionable.   I find them disreputable.  So off I went, found a sympathetic saleswoman at Nordstrom, got my older child, the one with fashion sense, to help me out, and bought several new clothes and a couple of new pairs of shoes.  Some will go back but most will stay with me.  I cannot go around my solidly upper-middle-class Marin neighborhood looking like the bag lady's poorer sister.
After the harrowing experience of confronting myself in the dressing room mirror, spending more money on clothes in a day than I've spent in the past several years put together, and convincing my husband that the worn-out fashions of the last decade can use an update, I'm so ready to rest myself with political and social commentary.  Here goes….
** 1 **
You're probably au courant about this one already, but the Palestinians are back at it again, recycling the dead from other wars to suit their own propaganda purposes: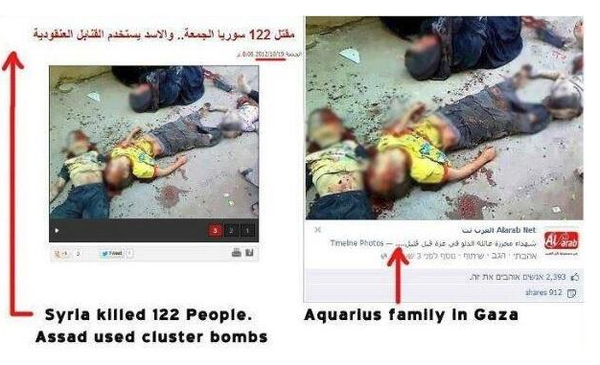 We see the crude trickery, but the Muslim, Leftist, and Neo-Nazi masses in Europe just see something to feed their already rabid antisemitism.
** 2 **
Among other things, the tragedy of MH17 reveals the horror of morons with hyper-destructive missiles.
** 3 **
I called it inappropriate laughter. Charles C. W. Cooke calls in insouciance. No matter the label, there's something dreadfully wrong with Obama's responses to the worldwide calamities that have been mounting during the second half of his presidency.
I also don't like the word "insouciance," which I think better applies to the incredibly courageous spy keeping his calm and humor even while facing discovery as he works to save his country. Obama's cavalier attitude and endless ill-timed guffaws have nothing to do with a stiff upper lip and everything to do with derangement, denial, or unseemly delight as he presides over America's downfall.
Perhaps, based solely upon his response to the MH17 attack, the right word for Obama should be moron, but I still think even that's too kind.
** 4 **
As their final revenge for having lost the Revolutionary War, the British are writing breathless puff pieces about Hillary Clinton. Indeed, the latest example is so breathless and puffy it's actually funny:
Throughout my interview with Hillary, she is fiercely engaged; her eyes—sparkly, wide, alert—remain firmly focused on me. She is warm, considered, talks slowly and thoughtfully and uses—consciously or not—tactics that put me at ease. She frequently answers my queries with the response: "Now, that's a great question", she litters her answers with colloquialisms that put us on a level and, listening back, I am struck by the amount of times she says, "You know". And of course there's that charming laugh. I can see that these natural skills make her the perfect diplomat, the ultimate leader.
Perhaps it's a parody, but it seems to be played straight. Incidentally, when I hear people repeatedly say "you know," I automatically deduct a few of the speaker's IQ points. I know that's unkind, because it's a verbal twitch unrelated to intelligence, but I hate verbal twitches. (For an antidote, see Weird Al's "Word Crimes.")
** 5 **
And if you admire Weird Al, as I do, he went on Fox (bravo!) to talk about grammar and internet marketing:
** 6 **
The way the media talks about Ted Kennedy, you'd think he was a saint. T. Becket Adams reminds us that, in fact, he was a sinner of the blackest kind. Forty-five years ago, what he did went beyond manslaughter, which would have been the charge had Mary Jo Kopechne's died the moment the car entered into the water.  Instead, he embraced murder, because he deliberately left her alive in the car, and allowed her to die, slowly, agonizingly, and alone.
** 7 **
A few hours ago, I was about to write "I'd like to boycott Chase Bank for prying into employee's personal beliefs, but I can't, because I don't have a Chase account." Then, my husband tossed me an envelope from Chase saying "You need to do this" — with "this" being opening a checking and savings account so as to get $400. Mr. Bookworm, of course, supports all actions the gay rights movement perceives as necessary to advance the gay rights movement, so my arguments against Chase on oppression grounds are unavailing.
I think I actually will open the accounts. In six weeks, I'll get $400. Then I'll close the accounts, explaining why. That would be a rather lovely form of boycott if, as I hope, Chase manages to earn less than $400 on my money during that time.
** 8 **
Bjorn Lomborg accepts the CO2 anthropogenic climate change narrative. However, because he is not a moron who wants to the First World revert to a pre-industrial standard of living, he is willing to accept that the projections were wrong and that climate change is nowhere near the disaster promised.
Alternatively, the Left could be invested in their view of climate change simply because they are, in fact, morons.
** 9 **
Remember this:  The GOP is not conservative. Some of its leading lights were behind the shameful attacks on Mississippi conservative Chris McDaniels. They were more interested in getting senile Thad Cochran reelected as their yes-man than in having an honest election, reducing racial tensions, and seeing a true conservative voice in the Senate.
** 10 **
The purpose behind lampooning an enemy is to make the enemy seem vulnerable. That's why a once-patriotic Hollywood worked overtime to create farces aimed at belittling the Nazis and the Japanese.
With that in mind, while I admire those who have created a satirical magazine about ISIS, I'm not sure what good it will do. After all, nobody who's fighting ISIS will be reading it. For the Christians being purged in Iraq, a little humor in the West is irrelevant.  On the other hand, of course, it can't hurt to satirize ISIS, remind everyone that it's made of men who can bleed and die like the rest of us.
** 11 **
I have repeatedly cited here God's exhortation to "Choose Life." The DemProg obsession with death — abortions, euthanasia, death panels, etc. — is one of the reasons I've turned against it politically. The road that the DemProgs are traveling ultimately leads to the nihilism that is Hamas.
Hamas has raised a generation of people who see death as their greatest accomplishment, provided that they kill Jews along the way. On the subject of Hamas, David Goldman agrees with me, which means I'm really smart on this issue. Moreover, he says that Israel is the only nation in the Middle East, not to mention one of few nations in the world, to choose life.
** 12 **
The wonderful Evan Sayet has a new website. And on his new website, he has a very good post explaining why Jews vote Democrat. As he sees it, due to centuries of being persecuted by people who believed in Christianity, Jews have foolishly concluded that they'll be better served by people — i.e., Leftists — who believe nothing at all.
Of course, as we've discussed here, just because one doesn't believe in God doesn't mean one doesn't have a belief system. Indeed, history has shown us that there is no more rabid believer than the unbeliever.
What I said above does not do justice to Sayet's entire post. Please read the whole thing for insights into the sad fact that some of the world's smartest people consistently engage in one of the world's most foolhardy and dangerous practices, i.e., putting faith in the Left.
** 13 **
I'm sure I've stated in a recent post my belief that the problem with radical Islamists is that they're good at killing, but not at governing (which doesn't keep them from trying to govern for years, decades, or even centuries, even as the mounds of bodies pile up on their watch). Daveed Gartenstein-Ross and Amichai Magen make exactly the same point, only with actual data and analysis.
However, as long as their governance involves waging war solely on themselves, I don't see why we can't just stand back and watch the attrition happen. Unfortunately, hundreds, thousands, and even tens of thousands of innocents will have to die, but the sad historical fact is that, when Islam is involved, whether it's fighting itself or us, the innocents are always the first in line to go.
** 14 **
You know it, I know it, and others are figuring it out: A lot of so-called ADHD arises, not because of pesticides, climate change, or Bugs Bunny cartoons, but because kids, through no fault of their own, are forced to sit still all the time. Yes, they need to learn how to sit still, but they also have to move.
** 15 **
A retired border control agent gives some insight into the purpose behind immigration laws and the terrible damage that follows if the government refuses to protect its own border:
** 16 **
Nobody has paid much attention to the Z Street case, a lawsuit that predates the eruption of the IRS scandal. Back in 2010, Z Street was a lone entity claiming that the IRS was deliberately discriminating against it because it's position regarding Israel (it supports it) was antithetical to Obama's position. Now, four years later, Z Street is finally getting discovery in that case, and this discovery may be the one pebble that, when moved, breaks open the entire dam. Here's hoping.
** 17 **
When the media talks about Israel, it lies. It's that simple, and the more established and elite the media (think New York Times and Washington Post), the worse the lies it tells. Here's a handy-dandy cheat sheet explaining the 8 biggest lies. Pull this out next time one of your Leftist friends posts an NYT or WaPo article hostile to Israel.
** 18 **
If you're in Chicago this Tuesday: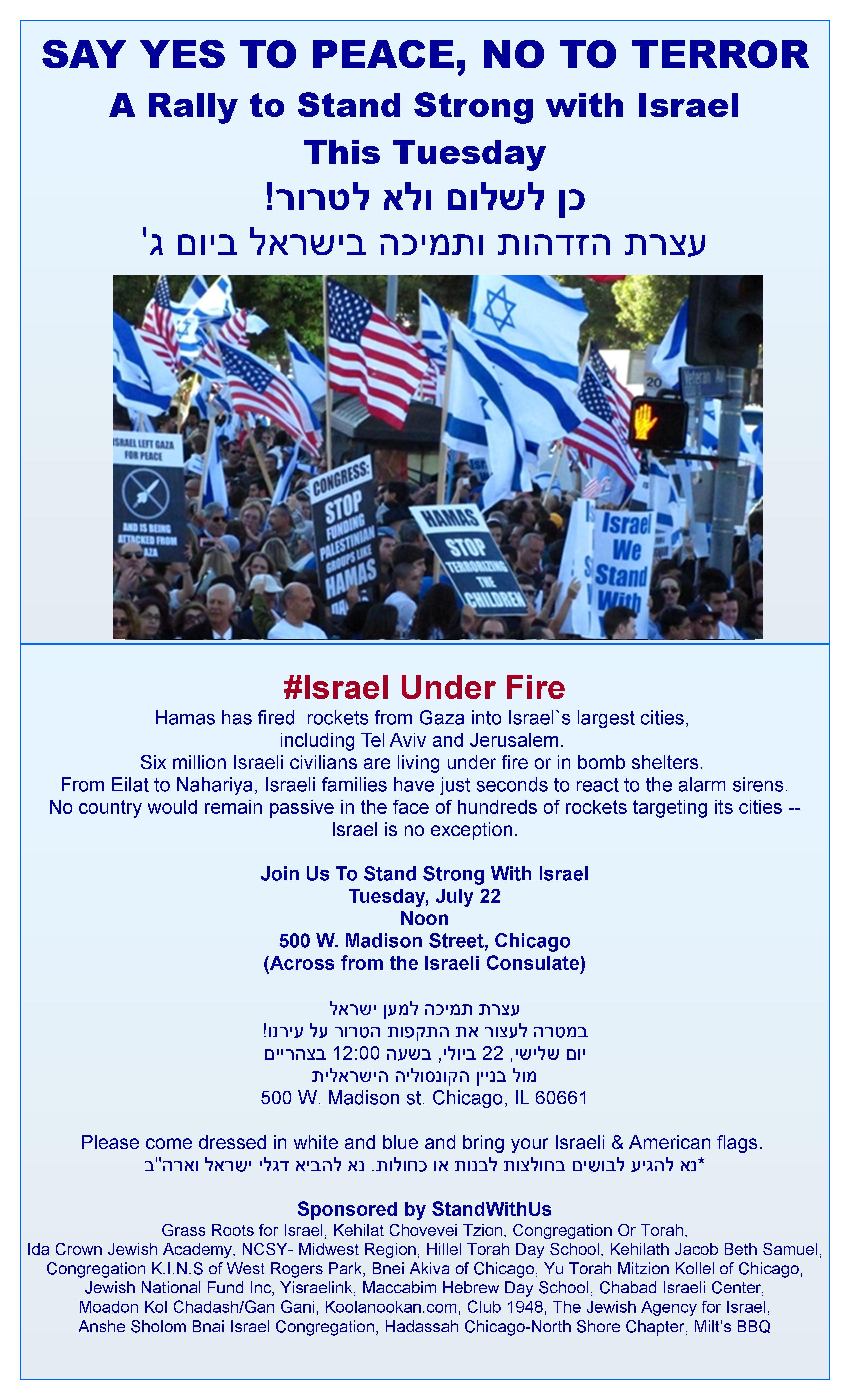 ** 19 **
Pictures: