Getting Obama to the right place in dealing with Israel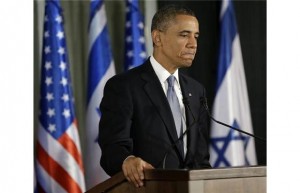 Just a random thought, but could Obama be persuaded to stop Iran from developing the bomb by convincing him that the mere possibility of a nuclear accident or intentional detonation is bad for the environment and would, in fact, worsen climate change?
Or perhaps we could convince huge numbers of LGBTQs to immigrate to Israel (the only country in the Middle East that welcomes them, rather than kills them) so that he'd have a reason he could live with to justify Israel's continued existence?
Or maybe we could convince Obama that, if the land really does belong to the Palestinians, all the Jews there are illegal immigrants and therefore entitled to amnesty (not to mention lots of American money).
Come on, folks!  Work with me here.  We need to spin this so that Obama feels ideologically and emotionally comfortable supporting Israel.