Saigon (aka Ho Chi Minh City)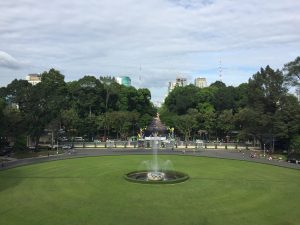 Dead tired so just a few impressions:
Hot and steamy, but delightfully unpolluted air compared to Beijing.
Lush greenery and gorgeous lights to celebrates the holidays.
Death walks at your side every time you try to cross a street — the traffic, especially the people on their little motorbikes, never stops.
Beautiful, gracious people.
A fascinating propaganda museum that I'll tell you more about in another post.
Delicious food.
Beautiful architecture, both old and new.
A few photos: