The illogical hysteria behind claims about campus sexual assault
Talking to young college women about campus sexual assault means encountering either ignorance or hysteria — which bodes ill for both men and women.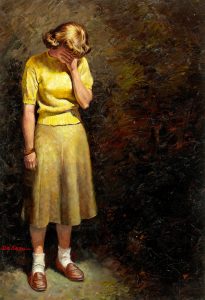 I delivered one of my Little Bookworms (henceforth "LB") to the Obscenely Expensive Liberal Arts College ("OELAC") the LB attends. Frankly, I could see why LB is so happy there. The campus is beautiful, the historic dorm is charming, and LB has made some delightful, and quite well-mannered, friends. In other words, LB is enjoying the quintessential, all-American college experience. That is, if you ignore the obscene cost that LB's major will never pay off and the hard-Left politics practiced in the classrooms. But otherwise . . . yeah, I get while LB likes it.
One of the reminders that OELAC is a hard-Left institution is the ubiquity of posters all over reminding the students about campus sexual assault. Wherever one looks, it's rape . . . rape . . . RAPE!!!! I asked one of LB's friends, a bright young person who's data oriented, what the actual statistics are for campus sexual assault. He didn't know. However, another young person chimed in to explain that the statistics only make sense if you understand that larger colleges than this little OELAC are "under-reporting" their campus sexual assaults.
A quick inquiry revealed that this second young person didn't actually know OELAC's campus sexual assault statistics. Although she was rather muddled, it appeared that she just "knew" that they were higher than those at the big public university located nearby.
Her reasoning was as follows: Because little OELAC is such a supportive environment, women are more likely to report assault, rather than more likely to be sexually assaulted. With that as her baseline supposition, the (supposedly) lower number of assaults at the big university could be justified only by assuming under-reporting. I was confused, and only get more confused when it turned out, as I said, that she had no idea what the campus sexual assault statistics were for either campus she was discussing.
Two things struck me as peculiar about the issue of campus sexual assault at little OELAC. First, the OELAC campus population is more than 60% female. Accepting the students' world view, which is that they are immersed in a rape culture, that means the small cohort of male students (fewer than 40% of the total population) are ravening animals. Indeed, given the number of gay male students, it's likely that just over 30% of the male population is heterosexual.
I don't know about you, but it strikes me as unlikely that this tiny population of young men, especially young men in a "supportive" (the young person's word) environment that obsessively reminds its male students not to rape, is a serious threat to the myriad young women on campus. And frankly, rhetoric aside, the young women gave no indication they were afraid, walking around both the dorms and campus freely at night in a way I never would have when I was at Cal more than 30 years ago.
However, militating against that first point — that is, that it's hard to believe that a small male population constantly warned against raping is responsible for an epidemic of campus sexual assault — is the second thing that struck me when I joined the young people for dinner in the college's cafeteria: Despite the Midwestern locale, a surprising number of male students were quite obviously of Middle Eastern or African origin.
Unlike America, which has rapists, but no rape culture, both the Muslim Middle East and Africa do have rape cultures. It's entirely possible that every one of these Middle Eastern and African young men are models of decency and rectitude. They may revel in a respectful culture that treats women as equals and may be grateful for the opportunity to live in an orderly, polite society.
It is also possible, though, that when confronted with scantily-clad young women (short shorts, no bras, bared midriffs, etc.), many of whom ignore warnings and deliberately drink to excess at parties, these African and Middle Eastern may perceive themselves as benefiting from a freely available sexual buffet. That is, so far as they are warned not to rape, they don't perceive themselves as raping. After all, it's a tenet of Islam that non-Muslim women who do not dress modestly are ipso facto prostitutes — and, in their culture, you can't rape a prostitute.
I may be maligning every single foreign (or First Generation) male Middle Eastern or African student on that campus . . . or I may not. Who knows. I'm just guessing wildly based upon what I saw, what I know, and what my biases are. In other words, the above are merely my observations based upon the factually and statistically innumerate observations of a very nice, sweet, and quite intelligent young lady who considers herself a modern feminist, and my own preconceived notions about the likelihood that American men will rape versus the likelihood that Middle Eastern and African men, especially if they are Muslim, will rape.
Thankfully, the young woman to whom I spoke didn't break down in tears at the thought of rape. Perhaps that's because I listened to her without challenging her, since I did not want to make either my LB or LB's friends uncomfortable. Things didn't go quite so well at Fordham, especially for one professor who tried to suggest to this paranoid generation of young college women that things might not be as bad as they think they are:
Christopher Rodgers is paying dearly for challenging the conviction among some of the students at Fordham University's Rose Hill campus that there is an epidemic of rape on America's college campuses.

The ironies are rich. Anastasia Coleman, Fordham's Title IX coordinator, is investigating Rodgers, her deputy Title IX coordinator and dean of students, after resident assistants (RAs) said they were brought to tears by a video questioning the basis for the claim that sexual assault is out of control in college. (Coleman has not responded to email requests for comment.)

Rodgers showed two videos during an RA training session Aug. 18 which he said represented competing political narratives about campus sexual assault. Representing the view of the left, Rodgers showed a trailer of The Hunting Ground, a problematic documentary that has come under heavy fire from Reason, Slate's Emily Yoffe and others.

One RA wrote that she found 10 women crying in the bathroom after the presentation, and that "it was inappropriate to be putting advocacy for victims in the context of political debate…politics has nothing to do with it."
Read the rest here.
It is no exaggeration to say that America's educational institutions are creating paranoid hysterics who react with violence when their perceptions get challenged. They are a dangerous, damaged generation.
Photo Credit: "H" is for Heroin — Rafael DeSoto paperback cover 1952, found at Flickr. Creative Commons license; some rights reserved.