Random thoughts on the unfolding Russia Collusion hoax
With Barr promising to investigate the Russia Collusion Hoax, it's a good time to think about the motivations driving those who masterminded the hoax.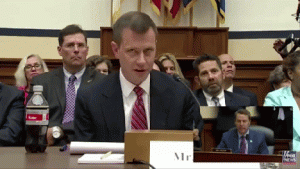 Yesterday was another day spent pulling out ivy, a process I found so exhausting, I couldn't write last night. Not writing, though, doesn't mean not thinking. I've been thinking a lot about the Russia collusion hoax, especially about what drove the major actors to do what they did. After all, even if they thought the risk was minimal because they were banking on a Hillary victory and doing their best to ensure that victory, the power players knew that what they were doing was both illegal and immoral. That's a pretty big hurdle for otherwise law-abiding people to make.
To get to my answer, I'll start by looking at what they did (and mine is a slightly different focus than most others), and then I'll try to answer the question about what powered these people's engines. Here goes….
I suspect that several of you, like me, remember the Watergate scandal. For any of you young'uns reading this, way back in 1972, while acting on behalf of Nixon and his innermost circle, a bunch of former government operatives broke into Democrat National Committee headquarters at the Watergate office complex to steal information related to the election.
To give what they did some context, the equivalent act would be for some former 49er football players, acting at the behest of the current coach to break into Seattle Seahawk headquarters to steal the coaching book for the upcoming football season. It's an aggressive form of cheating in the midst of a fiercely fought rivalry.
With that in mind, we can see that there are some parallels to Watergate in the Russia collusion hoax and some things that differ wildly. It's easiest to start with the obvious difference, which is that the Russia Collusion scandal did not involve outsiders acting only once to steal a playbook. Instead, it involved permanent government employees embedded deeply in our entire security apparatus — the FBI, CIA, and DOJ — working in concert for months. Watergate was kindergarten and this was post-graduate work.
Moreover, unlike Watergate, after Trump was elected, this collusion scandal morphed into a full-blown government coup intended to take down a duly elected American president. That the Left — from the DNC, to the media, to the people down the block from me — looks upon this complacently instead of with horror tells you that the Left no longer has any allegiance to America, American values, or the Constitution. Every Leftist, no matter where situated, is enthusiastically embracing tin-pot banana republic tyranny. There are no words for how sad and how dangerous this is.
Interestingly, though, I haven't heard anyone articulate what information these bad actors were seeking in the run-up to the election. I know this sounds like a stupid observation, and it may well be. The obvious answer is that these bad actors were seeking evidence of Russian collusion in order to create an October surprise that would bring down Trump's candidacy.
The thing is, though, that you and I know that, while a few true believers may actually have thought that Trump and/or people within his inner circle were working in concert with Putin, the reality is that the big bad actors — Comey, Brennan, Clapper, McCabe, Strzok, Page, Priestap, etc. — knew perfectly well that there was no collusion. They knew this because (so far as we know) the only proof they could bring to the FISA court to justify spying on Trump was the Steele dossier.
We also know that these same Deep State players were able to "verify" the Steele dossier only by leaking its existence to a reporter and then, in a nice example of bootstrapping, using his subsequent report to bolster the dossier's bona fides. Otherwise, there was no evidence whatsoever supporting the hearsay upon hearsay upon hearsay accusations in the dossier. So, no, the Deep State inner circle knew that there was no evidence of collusion sufficient to justify spying on Trump.
That being the case, there were only two things they could have been looking for in the months leading up to the election when they attacked the Trump campaign using six different spying methodologies: The first thing they were probably doing, although  no one has talked about it, was engaging in a purely Watergate-type escapade. That is, they used the instruments of state to go after campaign strategies, private polling results, lists of voters, etc. That would have been bad enough and, indeed, worse than Watergate, given the nature of the actors, the scope of their investigation, and the amount of information they stole.
The second thing they were doing, though, was even worse: They brought America's entire spying apparatus to bear on the Trump campaign in the hope that they might find an October surprise. In other words, America's vast, all-powerful, potentially Stasi-like surveillance system was put to use for a fishing expedition against a presidential candidate that the unconstitutional fourth branch of government (that is, the permanent bureaucracy), as well as the president sitting at the head of that fourth branch of government, opposed.
This in turn leads to two questions further questions: First, considering that everyone thought Hillary had a lock on the White House, why would these Deep State players feel the need to spy on Trump? I think they did so because of what an old colleague of mine used to call the "belts and suspenders" mindset. In other words, even if your belt is doing a fine job holding up your pants, should there be even the slightest chance your pants might fall down, you can put on suspenders too.
The "belt" for these Democrat Party operatives was that Hillary polled well and that Trump was a brash outsider with no political experience (except, of course, for working with and against politicians and bureaucracies for 40 years, of course). Given that data, their pants seemed stable. But….
There was the little problem of tens of thousands of people turning up for Trump rallies, while tens of people, or maybe hundreds of people, showed up for Hillary's rallies. Suspenders seemed called for, just in case.
What the Deep Staters were doing can therefore be likened to the "double tap" that shooters — whether they're good guys or bad — use against their targets. If you're a professional doing a job, you make damn sure the job is done right, and that's true whether your work is legal or criminal.
Second, why did these permanent bureaucracy operatives dislike Trump? I think there are three ways to view this.
Some of it was class based. (Think of Kurt Schlichter's Militant Normals: How Regular Americans Are Rebelling Against the Elite to Reclaim Our Democracy
.) The brash, outspoken Trump was just too tacky — and his supporters were worse. "Deplorables" as Hillary called them. Or as Strzok said, "I can smell them at Walmart." I bet Strzok pulled this face when that "smell" assaulted his nostrils, knowing that he was on his way to making their votes irrelevant: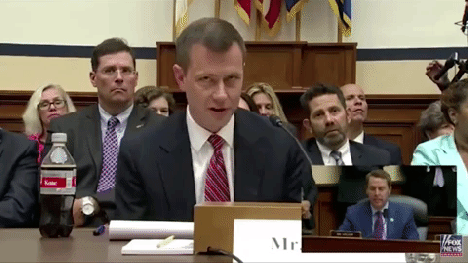 Some of it was definitely policy based differences. These guys were Democrats and they wanted to see the Obama legacy continue. They knew, as did every person who voted for Obama and intended to vote for Hillary, that Trump was going to do his best to stop and reverse Obama's policies. Where Obama opened our borders, Trump would close them. Where Obama squashed our economy, Trump would free it. Where Obama demoralized law enforcement, Trump would respect it. Where Obama turned our military into an under-funded Leftist therapy group, Trump would turn it back into the world's finest fighting machine. Where Obama coddled Muslim terrorists, Trump would grind them into dust. You get the picture. These Leftist bureaucrats liked the Obama status quo. They wanted Hillary.
Mostly, though, I think it wasn't love or hate or even politics that motivated our criminal bureaucratic class. It was fear. Trump ran on the promise that he would shrink the government that was sucking up American wealth and (as the Russia collusion hoax itself proved) destroying American liberty — for what can be more liberty destroying than wiping out free and fair elections? These people, therefore knew that two things were at stake for them, and they are the two things that routinely lead people to lie, cheat, steal, and kill: Money and Power.
Money (including those all-important government pension benefits) will always be a driving force in human behavior. In fact, though, I don't think it was the main driver here. The people who masterminded what began as a major cheat on a fair election and then morphed into a full-blown coup knew that they could get money elsewhere. After all, whether in the Democrat-run media or in a private sector staffed by people who all graduated from the same Leftist academic institutions, they were all eminently employable.
What the Deep State operatives really risked losing was power. Their power optimum would be if Hillary won. She knew their secrets and they knew hers, in a merry waltz that would keep them circling the ballroom even as America collapsed around them.
However, even if a Republican other than Trump had won, they still would have maintained their power. Again, they knew the secrets of all the usual Washington players. They also understood that the usual Washington players, no matter the party and no matter their alleged fealty to "shrinking the government," once they got a seat in Congress or a state house, never shrank government. Sure, a few regulations here and there or a few low-level jobs might go, but nothing that would threaten these power players. Republican or Democrat . . . government always grew.
But Trump, ah, Trump was a different animal altogether. He was an outsider who had a long-established reputation for cutting through things: He cut through red tape, he cut through bad business deals, he cut through realty-TV, etc. If he said he would do it, he did it and he did it damned efficiently. When Trump said he was going to shrink government, they knew in their guts that their power base was about to be destroyed. This was their own personal Defcon 1 event, one that, in their minds, readily justified jettisoning every American law and principle.
Anyway, the above is what I think Barr's investigation, if it is an honest one, will reveal.
Of course, the biggest question of all is the one that also ties back to the Watergate years:
There is no doubt in my mind that President Obama was in on this, whether at the very beginning, when he wanted to ensure Hillary's victory or sometime after the election, when he wanted to ensure a re-do. In other words, Obama was either amenable to using the instruments of government to cheat in a presidential election or was amenable to bringing down the United States government because his anointed candidate lost.
I hope Barr has the courage to answer Sen. Baker's question. I think the American people deserve to know.
(I know that some of you are troubled by trolls in the comments. I therefore want to remind you that Disqus allows you to block those people, even when I cannot do so thanks to their weasel tactics with IP addresses. To block someone, look to the far right of their name, where you will see a little down arrow. Click on that arrow to bring up a menu. One of the choices is to block that person. It's such an efficient blocking mechanism that you won't even see them showing up in your emails.
Incidentally, I recommend using this very sparingly. Getting outside our bubbles for a debate about ideas or an exchange of facts if a good thing. I use this only for people who are obscene and abusive without any offsetting value.)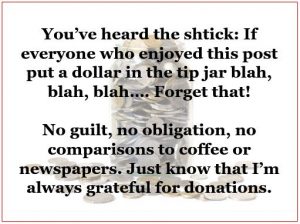 [give_form id="59195″]