President Trump is the "dayenu" president
No matter how imperfect Trump is, looking at his record of accomplishments, as to each one I say the Passover word "dayenu" — it would have been enough.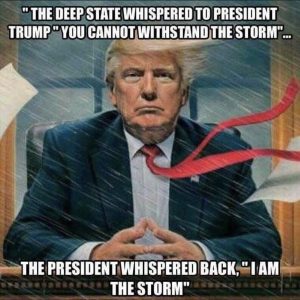 During the Passover dinner, one of the songs Jewish families sing is Dayenu. It is in the nature of a "count your blessings song," with the song reciting each of God's miracles during the Exodus and, after every verse reciting "dayenu," which means "it would have been enough" or "it would have sufficed." Growing up,  I considered this song one of the best parts of the proceedings. I was in good company, for Jews have been singing Dayenu for around one thousand years.
The song consists of three groups of praise for God's miracles. The first group recites the miracles that challenged Pharaoh, the second recites the miracles that were the Exodus itself, and the third recites the miracles of being with God and getting the Ten Commandants during the forty years in the wilderness. Chabad provides a nice version of the lyrics in  both English and Hebrew:
If He had brought us out from Egypt, and had not carried out judgments against them Dayenu, it would have sufficed us!
אִלּוּ הוֹצִיאָנוּ מִמִּצְרַיִם וְלֹא עָשָׂה בָהֶם שְׁפָטִים דַּיֵּנוּ
If He had carried out judgments against them, and not against their idols Dayenu, it would have sufficed us!
אִלּוּ עָשָׂה בָהֶם שְׁפָטִים וְלֹא עָשָׂה בֵאלֹהֵיהֶם דַּיֵּנוּ
If He had destroyed their idols, and had not smitten their first-born Dayenu, it would have sufficed us!
אִלּוּ עָשָׂה בֵאלֹהֵיהֶם וְלֹא הָרַג אֶת בְּכוֹרֵיהֶם דַּיֵּנוּ
If He had smitten their first-born, and had not given us their wealth Dayenu, it would have sufficed us!
אִלּוּ הָרַג אֶת בְּכוֹרֵיהֶם וְלֹא נָתַן לָנוּ אֶת מָמוֹנָם דַּיֵּנוּ
If He had given us their wealth, and had not split the sea for us Dayenu, it would have sufficed us!
אִלּוּ נָתַן לָנוּ אֶת מָמוֹנָם וְלֹא קָרַע לָנוּ אֶת הַיָּם דַּיֵּנוּ
If He had split the sea for us, and had not taken us through it on dry land Dayenu, it would have sufficed us!
אִלּוּ קָרַע לָנוּ אֶת הַיָּם וְלֹא הֶעֱבִירָנוּ בְּתוֹכוֹ בֶּחָרָבָה דַּיֵּנוּ
If He had taken us through the sea on dry land, and had not drowned our oppressors in it Dayenu, it would have sufficed us!
אִלּוּ הֶעֱבִירָנוּ בְּתוֹכוֹ בֶּחָרָבָה וְלֹא שִׁקַּע צָרֵינוּ בְּתוֹכוֹ דַּיֵּנוּ
If He had drowned our oppressors in it, and had not supplied our needs in the desert for forty years Dayenu, it would have sufficed us!
אִלּוּ שִׁקַּע צָרֵינוּ בְּתוֹכוֹ וְלֹא סִפֵּק צָרְכֵנוּ בַּמִּדְבָּר אַרְבָּעִים שָׁנָה דַּיֵּנוּ
If He had supplied our needs in the desert for forty years, and had not fed us the 

manna

 Dayenu, it would have sufficed us!
אִלּוּ סִפֵּק צָרְכֵנוּ בַּמִּדְבָּר אַרְבָּעִים שָׁנָה וְלֹא הֶאֱכִילָנוּ אֶת הַמָּן דַּיֵּנוּ
If He had fed us the manna, and had not given us the 

Shabbat

Dayenu, it would have sufficed us!
אִלּוּ הֶאֱכִילָנוּ אֶת הַמָּן וְלֹא נָתַן לָנוּ אֶת הַשַּׁבָּת דַּיֵּנוּ
If He had given us the Shabbat, and had not brought us before Mount Sinai Dayenu, it would have sufficed us!
אִלּוּ נָתַן לָנוּ אֶת הַשַּׁבָּת וְלֹא קֵרְבָנוּ לִפְנֵי הַר סִינַי דַּיֵּנוּ
If He had brought us before Mount Sinai, and had not given us the 

Torah

 Dayenu, it would have sufficed us!
אִלּוּ קֵרְבָנוּ לִפְנֵי הַר סִינַי וְלֹא נָתַן לָנוּ אֶת הַתּוֹרָה דַּיֵּנוּ
If He had given us the Torah, and had not brought us into the land of 

Israel

 Dayenu, it would have sufficed us!
אִלּוּ נָתַן לָנוּ אֶת הַתּוֹרָה וְלֹא הִכְנִיסָנוּ לְאֶרֶץ יִשְׂרָאֵל דַּיֵּנוּ
If He had brought us into the land of Israel, and had not built for us the 

Beit Habechirah

 (Chosen House; the 

Beit Hamikdash

) Dayenu, it would have sufficed us!
אִלּוּ הִכְנִיסָנוּ לְאֶרֶץ יִשְׂרָאֵל וְלֹא בָנָה לָנוּ אֶת בֵּית הַבְּחִירָה דַּיֵּנוּ
So you can get a sense of the melody, here is the Maccabeats' charming version of the song (although when we were kids we perked up rather than collapsing during the song):
The point of the song, obviously, is not to get greedy, but to be grateful for whatever gifts or miracles come your way. God doesn't need cumulative miracles to prove His greatness and the debt Jews owe Him. Each little thing He did, standing alone, would have been enough.
So what's this got to do with Trump? Well, let me first assure you that I am not likening Trump to God. He is no God. He is, instead, a very imperfect man, but one who nevertheless has taken a series of steps that, even if each stands alone, is a reminder why a Trump presidency is so much better than the Hillary alternative.
The genesis for this thought came about because I got an email from a very dear friend, one whom I respect more than you can imagine, who is baffled by my fondness for Trump. Before the Mueller report, he saw Trump as a crude buffoon. Since the Mueller report, he sees him as a dangerously corrupt individual. Worse, he sees Trump as way less successful than a good Republican president should be. As readers of this blog know, I've come to hold Trump in quite high esteem. Thinking about how to explain my esteem to my friend, I came up with the "dayenu" meter.
To begin with, remember that America's choice in November 2016 was completely binary: Hillary or Trump. So we're not measuring Trump against some perfect Republican candidate; we're measuring Trump against Hillary, who was committed to continuing the Obama administration, although with the addition of the Clintons' unique brand of financial corruption. It is in that context that I look at what Trump has done. (As an aside, I would argue, as Wolf Howling already has, that Trump is proving to be an extraordinary conservative president who, only halfway through his first term, can measure up even to Ronaldus Magnus.)
Also, regarding what Trump has not done, or not yet done, I never lose track of the fact that, for two-and-a-half years, Trump has been contending with the weight of an entirely false accusation that he entered into a conspiracy with Russia to keep Hillary from the White House. (Incidentally, that's why Trump said he was "f**ked* when he realized the immensity of this whole Russia collusion hoax. He wasn't saying, "Oh, my God, the jig is up! I'm going to jail." He was saying, "Oh, my God, this will paralyze my effectiveness as a president.")
So here's my dayenu recital for Trump:
If Trump had merely presided over a booming economy, even if one accepts Leftist talking points that it wasn't his policies that made the change — Dayenu.
If Trump had merely lowered taxes, even if one accepts Leftists talking points that lower taxes didn't help the economic boom — Dayenu.
If Trump had merely massively cut regulations, even if one accepts Leftist talking points that lessening the government's stranglehold over businesses didn't help the economic boom — Dayenu.
If Trump had merely presided over minorities seeing the best economic years of their lives, even if one accepts Leftist talking points that Trump didn't help the economic boom — Dayenu.
If Trump had merely appointed two conservative Supreme Court justices, even though the remaining Leftists Supreme Court justices show no sign of vacating their seats — Dayenu.
If Trump had merely put dozens of strict constructionists in federal appellate and district courts, even though enough Leftist judges remain to thwart many of his policies — Dayenu.
If Trump had merely taken seriously and worked hard to address American's concerns about illegal aliens flooding our southern border security, even though the Democrats' have successfully hamstrung Trump through Leftists activist judges — Dayenu. (Don't get me started on Congress's failure to act on the southern border when Republicans controlled both houses. Just don't get me started.)
If Trump had merely shifted the long-standing, failed paradigm that saw the US sending no-strings (or almost no-strings) money to North Korea and, instead, offered Kim Jong-un a carrot and stick approach to abandoning North Korea's nuclear program, even though Kim recently conducted a rocket test and talked to Putin — Dayenu. (I'm not worried about Kim allying with Putin, because he's always been allied with communist regimes; I think his recent posturing, including that rocket test, is just that — posturing intended to keep his own worst enemies, the ones inside his regime, at bay.)
If Trump had merely defeated ISIS on the battlefield, even though radical Islamism remains a worldwide scourge — Dayenu. (You have to start defeating radical Islamists somewhere, especially because it's the nature of Islam to respect a strong horse and want to gut and devour a weak one.)
If Trump had merely walked out of the illegal Kyoto Accord, which was set to deplete the American economy while propping up the hyper-polluting Chinese economy, even though his administration is still paying some lip service to the cult of climate change — Dayenu.
If Trump had merely supported a reinvigorated American oil, gas, and coal sector, which will bring employment to vast numbers of people and lower product prices for everyone, even though the climatistas are up in arms — Dayenu. (I have long believed that "renewables" cannot provide First World energy needs. Forcing America onto renewables will return us to a pre-industrial time which, while pastoral, was deadly and uncomfortable. The answer is to use our technology to make cleaner-burning fossil fuels and, if Scott Adams is correct, to turn to Generation IV nuclear reactors, which are completely safe and will burn up existing nuclear waste.)
If Trump had merely withdrawn from the illegal Iran Deal — which propped up the mullahs and funded world-wide terrorism — and instead reimposed economic sanctions on Iran, even though the mullahs are still rattling sabers and making trouble — Dayenu. (Nobody expected the mullahs to collapse the instant Trump undid that vile deal; it's enough that he undid it and is starting to reapply pressure on a very shaky regime.)
If Trump had merely reinvigorated the American military by pouring more funds into it and by ending the habit of treating it as a social justice experiment, even though doing so hurts the feelings of transgender people — Dayenu. (The military exists to protect our nation, not to make people feel good about themselves.)
If Trump had merely put the screws to China's predatory trade practices, which have been depleting the American economy for decades, in such a way that China appears to be backing down, even though people on the Left and the Right are now saying all tariffs are bad — Dayenu. (I believe in free trade, but free trade works only if there isn't cheating. Moreover, while many claim that things will eventually right themselves if left alone, that's a fine thing to say to one or two generations of Americans who are economically destroyed by China's unfair trade practices, which include intellectual piracy, slave labor, and government underwriting in the marketplace. This "dayenu," incidentally, also goes to the new trade deals Trump negotiated with other nations.)
If Trump had merely managed to de-fang most of Obamacare, which was a drag on the economy and which destroyed people's relationships with their physicians while doing nothing to improve the delivery of medical care in America, even thought the vicious, unprincipled John McCain did everything he could to block Trump's efforts — Dayenu.
If Trump had merely proved to be the staunchest friend Israel has ever had in the White House, or certainly the staunchest friend since Reagan, and implemented policies that are putting a stop to the Palestinians' non-stop, bad faith demands, even as the whole Democrat Party is turning increasingly anti-Semitic — Dayenu.
If Trump had merely presided over a Department of Education that withdrew the "Dear Colleague" letter that turned already Leftist campus administrations into fanatically man-hating entities that destroyed young men without due process and on the merest threads of accusations, even though . . . I don't know what "even though" clause could be used here — DAYENU!
If Trump had merely threatened to withdraw federal funds from institutions of (ostensibly) higher education that squash free speech, even though . . . heck! There is no "even though" here either.  DAYENU!
If Trump had merely shown fearlessness in the face of stifling, Leftist political correctness, thereby freeing other Americans to speak honestly, even though . . . what's the downside here? None. DAYENU!
I could go on all day with this. Trump is rude, crude, bumptious, impulsive, cold-blooded, combative, etc. I see that. I also see that he's incredibly funny, that he has a wonderful knack for making Leftists reveal their true colors, and that his initiatives, even if imperfect or ultimately ineffective, nevertheless have shifted paradigms at home and abroad in ways that are important to and beneficial for America.
As far as I can tell, the worst thing that Trump has left completely unfixed and unaddressed — and something that is a dangerous time bomb that could destroy America — is the $21 trillion national debt, which skyrocketed under Obama and has continued to rise under Trump. This is unsustainable and we need to work hard and fast to bring government spending down even as we hope that the soaring economy will help increase tax revenues to pay off that debt.
Also, while I'm on the subject, I want to address the Mueller report's statement that Trump refused to let Mueller interview him and the allegation that Trump played with the idea of dismissing Mueller and, while he eventually did not do so, asked White House counsel to lie about the fact that he even contemplated that dismissal.
First, the undoubted fact that Trump refused to allow Mueller to interview him: No sane attorney would have allowed Mueller anywhere near his client. We saw with General Flynn that the Mueller approach was to trip people up on small, inconsequential details, and then use those trip-ups to prosecute them for perjury in the hope of squeezing more out of them. It was Mueller's version of the torture Torquemada used during the Spanish inquisition.T
Just think for a moment about the fact that the FBI agents who interviewed Flynn believed he was trying to tell the truth, but that he didn't remember something they knew only because of their spying. Despite Flynn's manifestly honest intentions, and the fact that he did not committed any of the crimes for which he was being investigated, Mueller destroyed Flynn professionally and financially, and finally brought Flynn to heel by threatening Flynn's family.
Imagine what would have happened if Mueller, with all the information available to him through Obama-era spying, had gotten his talons into Trump. The only way to protect Trump was (a) to demand that Trump respond only to written interrogatories that could be carefully reviewed with an attorney and (b) to have Trump in those interrogatory responses denying remembering anything as to which he did not have absolutely perfect recall. To do otherwise would have thrown Trump into the maw of the new American Stasi.
I'm equally unimpressed with the allegation that, according to White House counsel Don McGahn, Trump wanted to fire Mueller, backed down on that desire, and then instructed his attorney to lie. It's meant to show that Trump had evil in his heart, even though he didn't fire Mueller, and then he tried to make his attorney complicit in that evil. Let's unpack this, shall we?
First, we only have Don McGahn's word for this. Trump was never asked about his side. The due process protections of examination and cross-examination are missing, making this pure hearsay from an attorney who had witnessed how Mueller destroyed the lives of those who didn't cooperate with him. In that way, his testimony was probably as honest as any testimony coming from one of Torquemada's victims.
Second, I can tell you as an attorney with decades under my belt that clients, when talking to their attorneys, often ask, "Can we do X?" or "Can we do Y?" with X and Y being either stupid or against the law. By the way, please remember that things can be against the law even if they're not morally wrong. One of the scary things about today's over-legislated and over-regulated world is that it's impossible for us to know what the law is, making us sitting ducks for zealous or biased prosecutors. The fact that Trump didn't know his suggestion couldn't fly means nothing.
Once client asks such a question ("can we do X?"), the attorney's role is to be extra cautious to protect the client. This may mean drawing lines that the attorney recommends the client not cross. When you have a bulldog client such as Trump, you, as the attorney, may have to take a strong stand to show that you're not joking about the fact that something that seems logical and moral is still illegal: "No, you can't do that, and if you insist on doing it, I'll have to quit as your counsel."
If that thread is indeed what McGahn had to make, Trump then did what 99% of clients do: He backed down and McGahn remained as his attorney. But Trump is in a unique class. Rather than this back-and-forth staying confidential, so that no one knows what ideas a client had before behaving perfectly legally, his attorney spilled the beans, making Trump look uniquely evil rather than completely ordinary.
One more thing about Trump's query about firing Mueller, if he indeed did make that query: To the extent Trump knew he was being framed, it was quite reasonable for him to wonder if he could stop a baseless witch hunt intended to invalidate an American election.
Third, keep in mind that we're dealing with exceptionally humorless people here. I sure you remember how, on the campaign trail, Trump said, "Russia, if you're listening, I hope you're able to find the 30,000 emails that are missing," Sane people immediately recognized that Trump was making a humorous riff about the fact that Hillary's blatant, grossly illegal security violations meant that the Russians had almost certainly been in possession of her emails for years.
Insane people — and that means the entire Left — insisted that Trump had the brazen effrontery to demand in public that Putin collude with him to hack Hillary's already hacked emails. When you remember that Mueller's attack dogs were all die-hard Democrat establishment members, you start to wonder, as I do, it's entirely possible that Trump made an obvious joke to McGahn ("Hey, remember not to tell Mueller I wanted to fire his humorless little ass").
So, yeah, I'm totally unimpressed by Mueller's obstruction drama. And if you'd like more reasons to be unimpressed, I recommend watching this Mark Levin video on the subject:
Finally, if you're interested in a stellar analysis of Trump — warts and all — as well as an explanation for why every American should find appalling the behavior of the bureaucratic caste arrayed against him, I highly recommend this Victor Davis Hanson interview, every minute of which is entertaining and informative (hat tip: Maggie's Farm):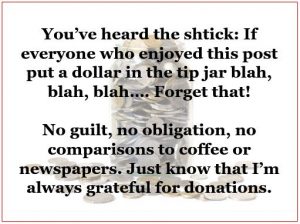 [give_form id="59195″]