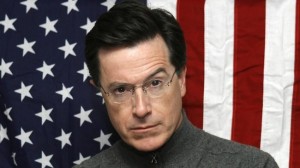 Mr. Bookworm likes Jon Stewart and Stephen Colbert. I don't but, because they're nattering away on my television, I often find myself watching them anyway.
Colbert, who will soon be filling David Letterman's vacant chair, has a shtick. His shtick is that he's a conservative, so his humor ostensibly attacks conservatives at their own game.
What makes Colbert's shtick fundamentally unfunny, though, is that he has no understanding of conservative ideas or, indeed, of anything at all. His starting point is a parody image of conservatives — hate women, hate minorities, love the evil rich, want to kill everybody with guns.  That's not funny.  It's just crude.
Then, his alleged humor attempts to build on this parody, looking at headlines through the stained, warped filter of his politic animus.  The result is something without any intrinsic humor. It only makes people laugh if they're inclined to laugh at any insult directed to their political opponents, no wit or insight required.
My premise for this post, therefore, is that it's not funny when ill-informed people try to parody something that they've already reduced to a parody.  Working off this premise, I want to introduce you to a video and, even better, its rebuttal.
The video came about when Funny or Die partnered with Kristen Bell (who is the voice for the redhead in Frozen) does a Mary Poppins parody supporting a hugely increased minimum wage. The video's production values are wonderful. Kristen Bell has a lovely voice to begin with and does a very good Julie Andrews imitation. The melody is a nice, subtle homage of "Spoonful of Sugar," without simply being a retread. Really, the whole thing is great, except….
Except that the premise is insanely stupid. It accepts blindly that, if the government forces employers to pay people above market rate, everyone (except the evil, abusive employers, of course) will have more money.
The video makes no effort whatsoever to rebut the fact that the iron laws of economics work no matter what DemProgs desire.  If the government forces employers to pay their employees more than the market will bear, employers will just hire fewer people. The result will be that a few people will have more money, although they'll be expected to do more work for that money. Many small businesses may stagnate, rather than grow, shrinking further the employment pool.  Ultimately, instead of having lots of people employed for low wages, you'll just have lots of unemployed.
You know why the video makes no effort to work through these problems, of course.  It doesn't try because it can't.  In a battle between the iron laws economics and witless Progressivism, the former always wins.  That leaves the latter with nothing more than superficial cuteness (a parody) justifying its simplistic economic demands (the parody piled on the parody).
The problem for conservatives, of course, is that their ideas, while inevitable, require some intelligence to explain and understand.  And, because they're complex, they require a little time and space.  A short rebuttal to a well-produced video is hard to do.  Reason's Remy, though, has taken a stab at simplifying the rebuttal, and he's done a pretty fine job:
So, if your Facebook friends start touting Bell's Poppins, feel free to tag them with Remy's Bert.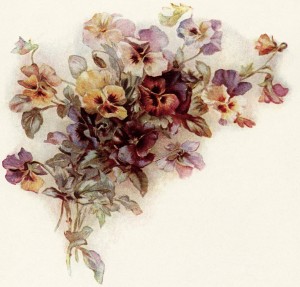 Dennis Prager asks a very important question:  What do you learn when you compare what Leftists and what conservatives view as the greatest evils in the world today.  Using this analysis reveals just how bereft the Left is of any moral compass.  Or rather, it has a moral compass, only it works backwards.  As for me, I'm wondering if there's any way I can slip the ideas in this article before my Leftist friends so that they think about the concepts without become too defensive to absorb them.
***
Wendy Davis got into a war of words with Bristol Palin, who pointed out that Davis' actual life, as opposed to her imaginary life, is nothing to be proud of.  A few comments.
First, I was absolutely blown away by something Davis said in her defense, regarding her relationship with her adult daughters:  "I have always been and will always be the most important female in their lives."  That's a pretty monumental ego you've got there, Little Lady.  An ego that size much explains everything about Davis's life choices and her lies.
Second, Palin is right, as Greg demonstrates in nice graphic form.
Third, Pat Sajak came up with the best tweets ever regarding Davis's imaginary bio:
Hired Wendy Davis PR firm to redo my bio. Turns out I was orphaned. Then reform school, migrant worker. Very inspiring.

— Pat Sajak (@patsajak) January 21, 2014
Bio update: took penicillin, didn't discover it. Admired Gandhi, but never arm wrestled him. Dad was Polish, not Comanche.

— Pat Sajak (@patsajak) January 23, 2014
By the way, if you want an endless stream of humor, follow Sajak on Twitter.  He's a gifted satirist and social observer who elegantly compresses his thoughts into 120 characters:
Can empathize with Bieber. I was wild kid, too. Mattress tag removal, jaywalking, overdue library books. You name it.

— Pat Sajak (@patsajak) January 24, 2014
***
NPR tries to push a minimum wage increase with a story about Henry Ford's decision to offer high wages to get the best employees.  It doesn't seem to occur to the geniuses at publicly supported radio that there's a difference between a business making a strategic decision to get the best employees possible, and a government forcing all businesses to pay higher wages to everyone across the board, whether they're yutzes or the most wonderful employees ever.  Even more disheartening than this, well, stupidity is the only word for it, is my sense that there's no way to get those NPR drones to understand that there is a difference.  Sigh.