One day's news from the SF Bay Area — how leftist can you get?
A glance at a the home page for Marin County's main newspaper provides a snapshot into the leftist brain.
Although I no longer live in Marin County, I still check the local news. It's not unusual for me to see familiar people named in stories and I always recognize the places. For whatever reason, today's newspaper struck me as just exceptionally leftist. This is the air that people breathe in Northern California. I've highlighted the words and I'll explain why each strikes me as peak leftist — and that's without discussing too many stories behind the headlines: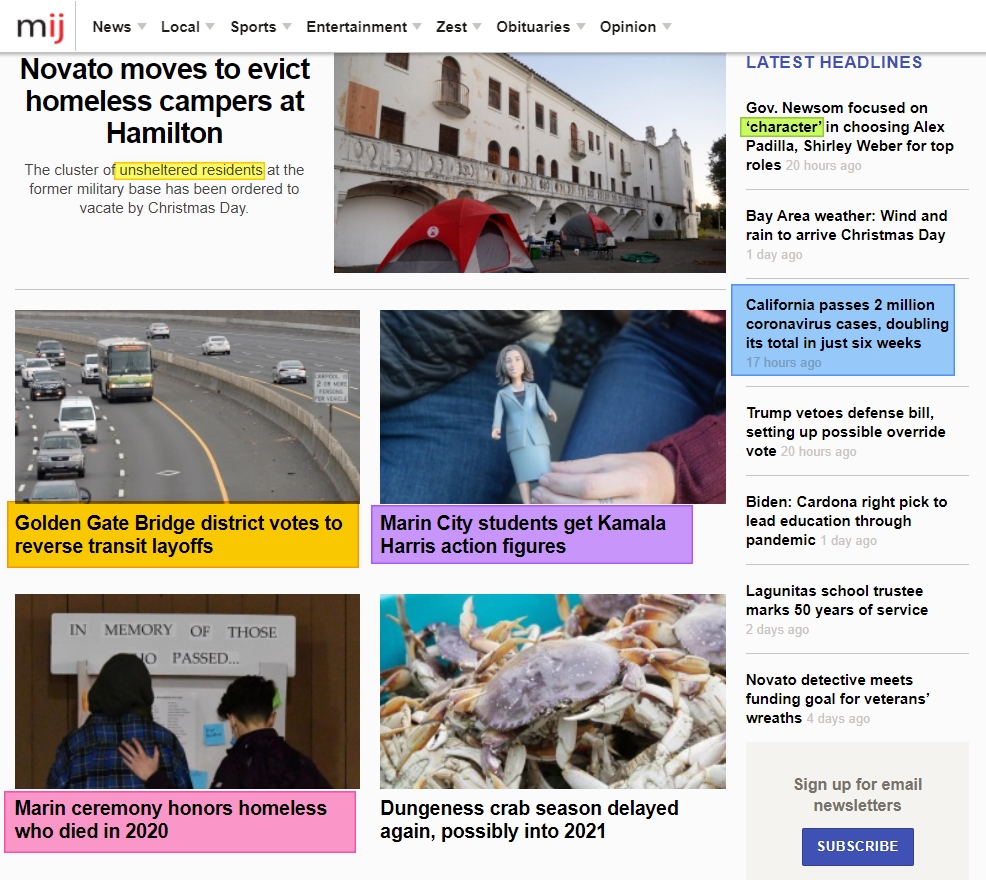 "unsheltered residents." The actual headline states the truth which is that "homeless" campers are taking over a former military base that is not a planned suburban community with lots of children. However, the moment there's more space you get that euphemism: "unsheltered residents." Homeless has a wealth of meanings: People without homes, drug addicts, mentally ill people, and criminals.
Governor Newsom focuses on "character" with Alex Padilla. Nope. That's retrofitting. Padilla's selection boiled down to one thing:  His race. Padilla has no known character, except that he illegally promised to pay $35 million taxpayer dollars to a Democrat political front group and then tried to hide his wrongdoing. Of course, thinking about it, that's precisely the type of character leftists like.
The explosion of the Wuhan virus in California. Up until about two weeks ago, California leftists were smug: Next to Oregon, they had the most draconian shutdown laws in America and it was paying off. Sure, their politicians were hypocrites, ignoring the misery they imposed on others, and yes, except for the the tech sector and white collar jobs that are home to leftists, California's economy was collapsing, but it was all worth it…. Oh, wait a minute. Do you mean to say that California is now one of the worst Wuhan virus hotbeds, not just in America, but in the world? Why, yes it is. I'm desperately sorry for my conservative friends who are trapped there, but for all the leftists and all the go-along with the leftists it's hard for me to feel much sympathy. Keep in mind that, in the Bay Area at least, most of those small business owners being hurt have voted Democrat for decades.
Reversal of transit layoffs. Government will screw you, the taxpayer, but it will never screw itself. Expect more and higher taxes — and, in the case of the Golden Gate Transit District, higher bridge tolls and bus fares — despite the government's deliberate decision to destroy the economy.
Marin City gets get Kamala action figures. First, how sexist is it to put Kamala in a skirt. Second, you can't engage in action in a pencil skirt. Third, propaganda much?
Ceremony honors homeless who died. Wait! They had space. Did they forget that these people are "unsheltered residents"? No, of course not. You use "unsheltered residents" when you want to clean them up and make people feel guilty that they don't want deranged, criminal people taking over their communities. You use the word "homeless" when you want to make people feel guilty that someone who as often as not chose to live on the streets has died.
Just as fish don't notice the water, Bay Area residents don't notice the non-stop drip, drip, drip of leftism sinking into their brains. Everything reinforces leftist shibboleths. Open up any Bay Area "news" publication and you'll find little in the way of actual news, but a whole lot of propaganda.
Image: The Golden Gate Bridge as seen from the Marin headlands (cropped) by David Ball. CC BY-SA 3.0.