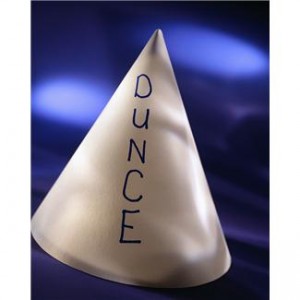 Lately, I keep finding the word "moron" on my lips. I know I'm not the smartest person out there but it seems that, with ever greater frequency, I find myself swimming in a sea of other people's stupidity.
Unsurprisingly given my ideological bent, I'm more aware of the stupidity on the Left — but it's out there everywhere. Being a moron is not the same as supporting what I consider to be a bad ideology. Instead, being a moron means that people get their facts wrong, their conclusions wrong, or their methodology wrong, no matter what ideology drives them.
Today's example of moron thinking comes from a New York Times op-ed shrilly accusing Texas textbooks of advancing a racist narrative at the behest of evil Texas conservatives. The Left has been in high dudgeon about the fact that the Texas history book states that despite their horrible circumstances Africans enslaved in America were able to find joy in their lives and create a rich culture, often connected with their adopting Christianity.  This is true, of course, and speaks will of the indomitable human spirit.
The problem for the Left is that these facts run counter to the Leftist narrative that America wasn't just a nation in the grip of bad ideas at certain time, but was and is irredeemably evil and must therefore be destroyed. Teaching that blacks triumphed over adversity doesn't advance that narrative as well as having them painted as anguished, weak victims who could do nothing to alleviate their circumstances.