Bookworm Beat 12/16/16 — the random politics edition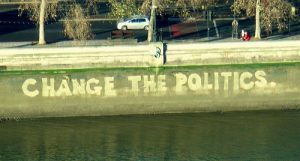 Thanks to my friends, I have an email box filled with links to fascinating, random politics. In keeping with that random spirit, I present to you this randomly organized post:
Principled journalism versus American journalism. Conservatives have been understandably charmed by the meltdown that Kurt Eichenwald, a Newsweak reporter suffered, first on Tucker Carlson's show and then again after Carlson's show in a series of tweets. Eichenwald scurried around like a maddened trapped rat, trying desperately to avoid Carlson's direct question about Eichenwald's unfounded, slanderous tweet claiming Trump checked into a mental hospital. Eichenwald ended the embarrassing debacle by blaming a tweet with a flashing GIF for his having a seizure and then announcing that he was taking time off from work on that account.
Eichenwald could have handled the whole thing differently. He could have followed this Spanish reporter who, upon learning that he'd relied on a poor source and made a false statement, took full responsibility for his failure and then voluntarily quit his job. In America, being a member of the mainstream media means that no apology is expected, unless it's a non-apology apology, after which you get a better job or get your fake news turned into a movie.
Obama and that Russian hack. Okay, first off, I don't believe in any Russian hack. I mean, we know that Russia and a lot of other nations spend a great deal of time probing America's cyber weaknesses. The reality here, though, is that Russia did not mess with voting machines, or state or federal databases.
What someone did (either Russia or, more likely, an angry Bernie supporter) was send a phishing email to John Podesta, who took the bait and exposed his and the DNC's actual emails to the eyes of the world. What the world saw was ugly. It wasn't fake. It was the real Democrats being stupid, racist, and manipulative.
When it comes to real Russian hacking (the probing into state secrets, etc.), Obama has done nothing in eight years either to strengthen our cyber weaknesses or, for that matter, to harden America's electric grid against an EMP attack. He's done nothing at all but bring down America's economy, America's national security, and America's standing in the world. John Podhortez has knocked one out of the park with this description of an Obama utterly passive in the face of every foreign threat or initiative.
Lately, the only thing that seems to induce some sort of activity in Obama is trying to make life more difficult for Trump by filling administrative positions that, traditionally, are left for the incoming president to fill. Perhaps Obama isn't aware that Trump has no problem saying "You're fired."
Trump's cabinet picks are the nail in the climate change coffin. The Left's non-falsifiable climate change theory is finally about to crash into something that might stop it: Trump's cabinet appointees. Writing at Manhattan Contrarian, Francis Menton has an excellent post detailing how great a blow Trump's cabinet choices are to the whole anthropogenic global warming/climate change scam.
National Geographic falls prey to O'Sullivan's law. National Geographic always used to have a vaguely titillating edge. After all, generations of young boys tried to grab it from the mail box before Mom and Dad could so that they could see pictures of topless women in Africa and other exotic parts of the world. That aside, for decades it really was aimed at helping Americans see the world without ever leaving their homes. It had pictures and essays about far-flung villages, archaeological sites, geological scientific breakthroughs, and other interesting stuff.
But then there's O'Sullivan's law, which is John O'Sullivan's dictum that any organization or enterprise that is not expressly right wing will become left wing over time. That goes a long way to explaining why NG's newest edition has a 9-year-old boy on its cover proudly announcing that he's thrilled that he's really a girl.
No, Avery. You're not really a girl. If you have a penis and testes, and do not have a vagina, uterus, and ovaries, you are really a boy — a mentally ill boy. Left alone, by puberty, your mind might align with your biological reality. In today's era, though, you'll never get that chance. I'm so sorry.
Moreover, a magazine cover will not make you happier in the long run. If you want to pretend to be a girl — wear dresses, make-up, long hair, go by a girl's name, etc. — it's a free country and you should be able to do so. I'll even do you the courtesy, should I meet you, of treating you like the girl you want to be. But please don't try convincing me and other reality-based Americans that you're anything other than a boy who is confused.
Trump wasn't wrong about those illegal votes. Hillary's much vaunted, and completely meaningless, popular vote victory happened in California. Two things about that: First, it's probable that a heck of a lot of illegals voted in California given that the election outcome would affect them. Second, a lot of conservatives almost certainly stayed home because their votes were meaningless for both president and senator.
Senator? What's that have to do with anything? A lot. Thanks to California's execrable open primaries, there were no Republicans on the ballot for senator. Additionally, depending on your county, there were also no Republicans on the ballot for House of Representatives. If your vote won't matter, why bother showing up? If Republicans in California, or other similarly situated blue states, knew Trump needed votes, they would have shown up.
Academic fascism strikes Johns Hopkins. While the Left is pointing at Trump and hollering "fascist," the real fascism — by which I mean brutally silencing opponents — is continuing unimpeded on America's campuses. The latest example, which seems not to have gotten a lot of press, involves a Johns Hopkins' professor who was shut down for challenging climate change theory:
The Johns Hopkins News-Letter article entitled "University suspends professor for 'hostile' classroom environment" tried to provide a balanced picture of a classroom environment that supposedly lay behind my suspension by Dean of the Krieger School of Arts and Sciences Beverly Wendland on Dec. 8 after I had been barred by Campus Security officials from entering my classroom on Dec. 6 to give my second-to-last lecture of the course. This picture is not balanced, partly because key information was not available to the authors and partly because some of the anonymous complaints are totally false. The most important points in rebuttal are as follows.

* The suspension could not have anything to do with an investigation of the student complaints. I just learned today (Dec. 14) from Sara Slaff in the Office of Institutional Equity, who is the person overseeing the investigation, that it has not even started since the students who made anonymous complaints requested that no investigation begin before final grades were in and this was agreed to.

* Yesterday (Dec. 13), Economics Department Chair Laurence Ball refused to answer whether the decision to recommend my suspension and my forcible exclusion from the classroom on Dec. 6 was his alone or a collective decision by the Economics Department or to provide any justification for that drastic action.

* The drastic action took place after I gave a three-minute farewell to the class in which I noted there was an ongoing war between those principles that go back to the Enlightenment defined so well by Immanuel Kant by the motto "Dare to think for yourself" versus an intolerant climate built on Political Correctness, safe spaces and fear of any student being made to feel uncomfortable by ideas that clash with the indoctrination many of them have had in Political Correctness all their lives. In my farewell talk, I urged students to keep an 'Open Mind' and to indeed 'Think for Themselves'. This three-minute talk was followed by thunderous applause from the class just as Professor Ball was apparently texting the security officials to remove me from the class.

So what explains my being barred from the classroom by presumably armed security officials and then suspended by Dean Wendland?

* Perhaps it was that my lecture for that day was on trade policy and the environment in which I was to present slides based on the work of some of the most noted climatologists and atmospheric scientists in the world indicating that the underlying basis for the claim for human man made global warming was indeed badly flawed. This dogma is the Holy Grail of the Left seeking reasons for political control over much economic activity and the minds of the young, and trade restrictions on countries not following a growth constraining policy limiting use of fossil fuels.
Read the whole thing. It's interesting, to say the least.
My favorite Progressive poster. I know that the following poster is supposed to be a nasty swipe at Trump's cabinet nominations, but I just love it. It makes me feel all warm and happy inside whenever I look at it because it's a reminder that Trump is saying that, to the extent hardcore Progressivism isn't fulfilling those departments' ostensible missions, the hardcore Progressivism has got to go: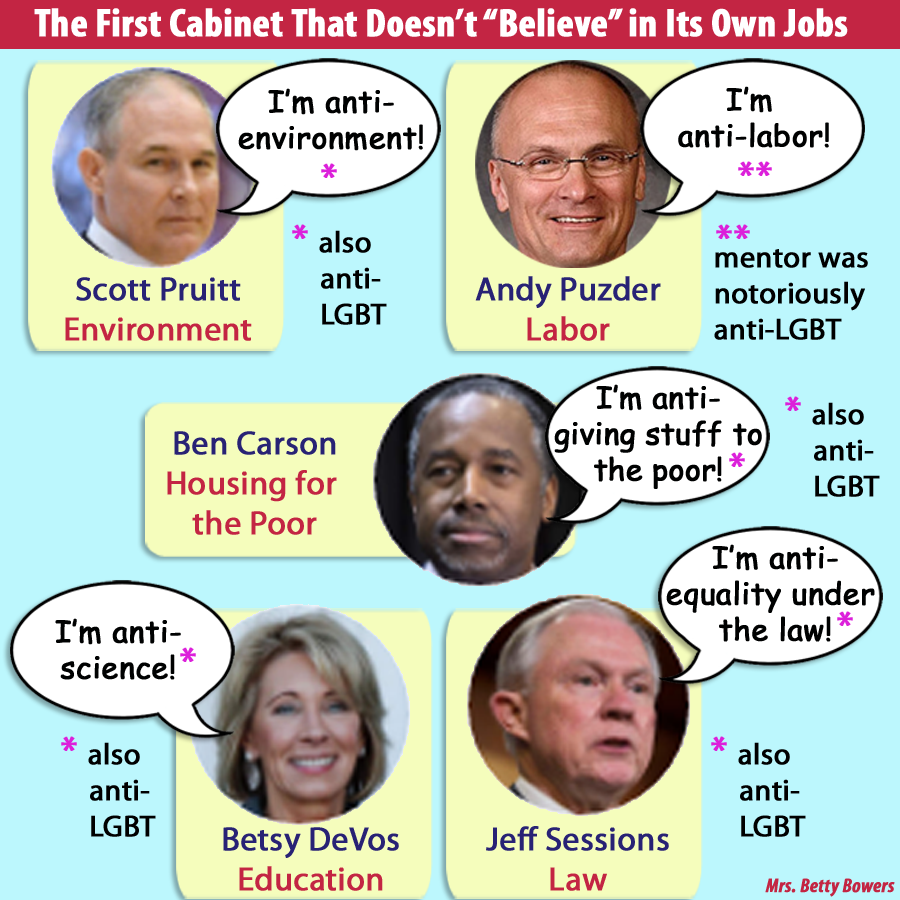 When is it okay to mess with a cover photo? Do any of you recall how incensed the angry Left became back in 1994 when Time Magazine darkened OJ Simpson's mugshot. To my white privileged eyes, it made him look sinister in a film noire way. To Democrats, who see everything through a racist prism, it made him look like a blacker African-American and that's bad. The message from that debacle was that magazines shouldn't use cheap darkroom techniques to turn cover photos into editorials, right?
Wrong. The message was that magazines shouldn't use cheap darkroom techniques to turn cover photos into editorials regarding Progressive darlings. When it comes to Republicans, though, any dirty darkroom tricks are to be celebrated. That's how one ends up with this ridiculous, self-satisfied article making all sorts of "deep" points about the way Time posed and edited Trump's "Person of the Year" photograph.
If you're wondering what liberal arts majors are learning in college today, they're learning how to write crap just like that.
Thankfully, ordinary people still have common sense. While the college madness continues, this John Stossel video about an affirmative action cupcake sale shows that Americans who haven't been corrupted by the college system still have common sense and don't believe in affirmative action, recognize it as inherently racist and unfair:
Lefties are such babies. One of the hallmarks of an adolescent is the certainty that everything is about him. He's self-conscious, boastful, demanding — all the things that go with an immature brain. Or a Leftist brain. For example, BuzzFeed's editor is having a temper tantrum because General Mattis (you know, the one with important responsibilities) is ignoring random internet memes and, rather like the lion ignoring a random fly, will not get back to BuzzFeed.
The revenge of the men. Progressives are anti-men. They support the whole LGBTQ theory that straight men are all repressed homosexuals and support the hysterical feminist claim that all men are evil. Men are in retreat, but they still have a few arrows in their quiver: such as giving bad reviews to shows obviously aimed at women. It's sneaky, but you fight with the weapons you've got.
Photo by TheCreativePenn