Trump is not Right Wing because America has no Right Wing
American conservatives, Trump included, by definition cannot be Right Wing, because their primary goal is to lessen government control over the individual.
John Lott wrote an article challenging the media's contention that the New Zealand mosque shooter is "right wing" and, naturally, tying that right-winged-ness to President Trump and his supporters. Lott based his challenge on the fact that the shooter's manifesto, aside from some trolling about Trump and Candace Owens, aligns perfectly with the Left's ideology and is utterly unrelated to Trump's words or policies. It's a good article and I recommend it.
I want to head in a slightly different direction which is to say, as I have said before, that there is no Right Wing in America, meaning that neither Trump nor his supporters can or should be smeared in that way. Moreover, there is almost no relationship between ostensible conservatives outside of America and those of us in America who identify as conservatives. We are entirely different breeds. I have a tendency to be wordy, but I'll try to keep this as streamlined as possible.
I'll start with the absolutely true statement that there are only two forms of government: Bigger Government and Smaller Government. No matter the label affixed to the governing entity, it's either Bigger, which means fewer individual rights, or Smaller, which means more individual rights. This is true whether the government is a monarchy, an aristocracy, an oligarchy, a republic, a democracy, a theocracy, a junta, or whatever. It's not the label that matters; it's the amount of government control versus individual liberty. Of course, socialist governments, whether denominated as socialist, communist, or fascist, are all Big (indeed, Biggest) Governments by definition.
"Right Wing" and "Left Wing" are purely European concepts, dating to the French Parliament in the lead-up to the French Revolution. The people to the right of the Speaker were monarchists; the people to the Left were revolutionaries in what came to be understood as the socialist mold. Both sides demanded Biggest Government with total control over the individual.
The battle between Bigger Government political powers raged in Europe through the 19th century and continued in continental Europe right into the 1930s. During that decade, the two rising political movements were both socialist. One socialist movement, communism, demanded nationalizing all private property as party of its Biggest Government plan. The other socialist movement, fascism, agreed to leave private property in private hands, provided that the government called the shots. It was therefore still a Biggest Government ideology.*
Another quality inherent in Bigger and Biggest Government is the need for more and more territory. This is necessary for two reasons: First, governments are invariably poor economic managers. Immediately after nationalizing, there's a flood of money, but as the free market dries up, the money stops flowing. Taking new territory brings in new wealth. Second, as Bigger and Biggest Governments inevitably become more totalitarian and despotic, they can avert people's attention from their failings and cruelty by creating scapegoats and stirring up war fever.
The only thing that separated Hitler's fascism from other socialist movements was that he infused it with his insane racial theories, whether about alleged Aryan superiority, the other races' alleged inferiority and, most specifically, the Jewish race's alleged sub-humanity, which required extermination. As was true for any Big Government, he hungered for world domination. He added to that the Muslim policy (and Hitler adored Islam) of enslaving those who couldn't or wouldn't get with the Nazi program and wiping out Jews entirely.
Hitler and the Soviet Union are gone, but Europe is in many ways the same as it was in the 1790s and the 1930s. In Europe, no movement advocates for "power to the people" (or, more accurately, "individual liberty to the people"). All we see across Europe are different political parties arguing that they are the better Biggest Government For The People. European political parties are, in other words, the direct descendants of the French Revolution.
Sadly, Britain and its former colonies (except for America, but more about that later), have become infected with Europeanism. They all went socialist after WWII. Once having done that, they lost the idea of individual liberty. Whether in England or New Zealand or Canada, there is no argument about Bigger Government versus Smaller Government. Instead, as with Europe, the only arguments are between political groups that promise that their Biggest Government will be better than the other party's Biggest Government.
America is entirely different. The genesis for America's revolution was England's Glorious Revolution in 1688. That Revolution was followed in 1689 by a written Bill of Rights. It contains many of the components we see in our Bill of Rights. If you're wondering why, then British people no longer have those inherent rights, that's because Parliament, in an effort to quash America's nascent Revolution, pulled a switcheroo, and said that, while the King owed his subjects those rights, Parliament did not. That's why Brits can go to prison for criticizing Islam, but (so far) Americans cannot. That's also why Brits are denied arms, even when fighting off armed intruders in their own homes, while Americans (so far) still can.
The American Revolution was pickled in the 1689 Bill of Rights. Even as the French Revolution was in full flower, with two totalitarian ideologies squaring off against each other in a welter of blood, America had taken those Rights, expanded them, and enshrined these marvelous inherent individual liberties in her Constitution and Bill of Rights. These rights truly are about "individual liberty to the people." Every single one is geared towards Smaller Government. Each describes inviolable areas of individual rights into which the government cannot intrude.
Since its inception, then, America's political parties have not replicated the European pattern. That is, it's never been about this Biggest Government party fighting that Biggest Government party for total control. Instead, the fight in America has always been between those who value the Constitution and therefore want Smaller Government and those who resent the Constitution and therefore want Bigger Government.
What all this means is that America definitely has a Left Wing. American Lefties, just like those people who sat to the Speaker's left in the 1789 French Parliament, want a non-aristocratic, non-monarchic government, but one that nevertheless holds all power while individuals hold none. Barack Obama perfectly described the mindset of this American Left Wing when he complained that the Constitution is "deeply flawed," "imperfect," and imbued with a "fundamental flaw." He later clarified that the problem was that the Constitution is a "charter of negative liberties."
To the true Leftist — to the Obamas of America — America's Constitution fails because its primary purpose is to prevent Bigger Government. Robespierre and Marat would have approved of Obama's viewpoint. Franklin, Jefferson, Adams, Madison, and Washington would not.
As I pointed out above, though, America does not have two parties battling for totaling government dominance. Thus, while it has a Left Wing, just as other nations do, America does not have a Right Wing: The political party and people opposing Leftists are not arguing for a Bigger Government, albeit a different Bigger Government than that which the Leftists (aka Progressives or Democrats) demand. Instead, unique in the world, those opposing America's Leftists demand Smaller Government.
Seen in this light, Trump, for all his bombast, is the perfect exemplar of American Small Government constitutionalism. Since the day he entered office, he has worked to shrink government.
Trump wants to shrink the regulatory state, which is an unconstitutional fourth branch of government that embodies Bigger Government. He wants individuals to keep their money, not have America's police power grab it for government coffers that politicians, bureaucrats, and cronies can abuse. He does not believe America must be the world's policeman or, worse, the world's nanny. He is therefore ending the Wilson Doctrine, something that arguably has no place in the 21st century. Trump is working to reinstate the Rule of Law, starting at America's border, something that exists, not to serve government, but to serve individuals.
Most importantly (I think), Trump believes in the inviolability of the individual right to bear arms. He understands that individuals are safest when the government fears them, rather than when they fear the government. In other words, while Obama and his ilk are classically Left Wing, Trump, and those who support what he is doing, are the antithesis of Right Wing.
Additionally, to the extent Right Wing is used as doublespeak for racist Hitlerites who want to enslave the world, Trump and his followers cannot possibly fall into that category. Even if some of them, including, solely for the sake of argument, Trump himself, have bad motives (hating blacks, LGBTQs, Muslims, etc.), this hatred is meaningless if the political party has willingly abandoned the engines of power necessary to effectuate those bad motives.
One last thing: For those wondering why American Republicans and conservatives (who seek Smaller Government and therefore cannot be Right Wing) are routinely labeled "fascists," thank Leftists in academia for that. After Hitler left Europe in ashes, socialists in America and Europe needed to do everything possible to disassociate Hitler and his fascists from socialism. They therefore began to teach that fascism was Right Wing and that conservatives/Republicans are Right Wing . . . and therefore they are Hitlerian fascists. As George Orwell knew, it's amazing what you can do if you control language.
And yes, the above was long, but I did cover more than two centuries of history and most of the world's continents.
____________________________
*England was anomalous in the 1930s because it still had something of representative democracy with individual liberty. However, the growing Labour movement (i.e., the rising socialist, Bigger Government movement) frightened many in the old landed classes. They had never trusted democracy and still yearned for a Bigger Government aristocracy. Seeing that this was not coming back, they were willing to throw their weight in with fascism because it would allow them the illusion of private property not to mention the money a fascist government was willing to pay private owners, in the form of retained profits, for ceding actual power to the government.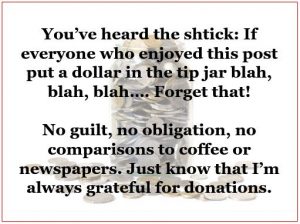 [give_form id="59195″]