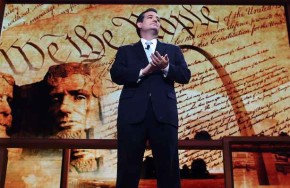 In 2013, Ted Cruz was the only one who wholeheartedly, bravely, boldly, took a stand against Obamacare.  The GOP was appalled.  I, of course, am appalled by the GOP — quislings, all of them.
Today, Ted Cruz announced that he's running for President:
I'm running for President and I hope to earn your support! pic.twitter.com/0UTqaIoytP

— Ted Cruz (@tedcruz) March 23, 2015
In honor of Cruz's announcement, I'm rerunning the post I did in the run-up to Cruz's promised filibuster of Obamacare, back on September 25, 2013: "Is Ted Cruz's promised Obamacare filibuster the equivalent of King Leonidas's stand at Thermopylae?"
***
Most people, whether Democrat or Republican, agree that Ted Cruz's planned filibuster in the Senate is doomed. It will do nothing to stop Obamacare's inexorable path towards implementation. (To understand precisely what the filibuster is about, Ace has a good, short explanation.)
Because Ted Cruz is nobody's fool, I'm guessing that he too knows that it won't stop Obamacare from getting fully implemented within the next few months. Why, then, is Cruz engaged in this quixotic effort? I think I have the answer, but you'll have to bear with me, because it involves taking a little trip back, back in time . . . to the Battle of Thermopylae.