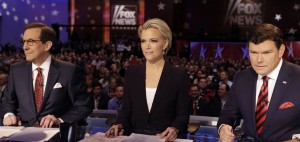 I watched the first 40 minutes and then stopped.  My problem was the moderators, who I thought were dreadful.  (Since I read my news and don't watch it, I approached them with an open mind, since I had no idea what shtick each brought to the table.)  I wanted to hear substantive answers on pressing issues, and they were playing "gotcha."  Watching the moderator/candidate interactions was unpleasant and, I quickly realized, a complete waste of my time.
I found particularly reprehensible the fact that they gave Rubio and Cruz only a minute to respond to those gotcha videos on immigration.  I prefer Cruz's immigration stance to Rubio's, but it was an insult to both men to force them to distill complex ideas and actions down to a single minute in the face of out-of-context video clips.  The tone of the debate was such that I expected to see everyone "perp walked" off the stage with reporters shouting questions at them about their future prison of choice.
The low, hostile, tabloid tone was especially disappointing because I'd hoped that Trump's absence would clear the air and allow for a more substantive and meaningful debate.